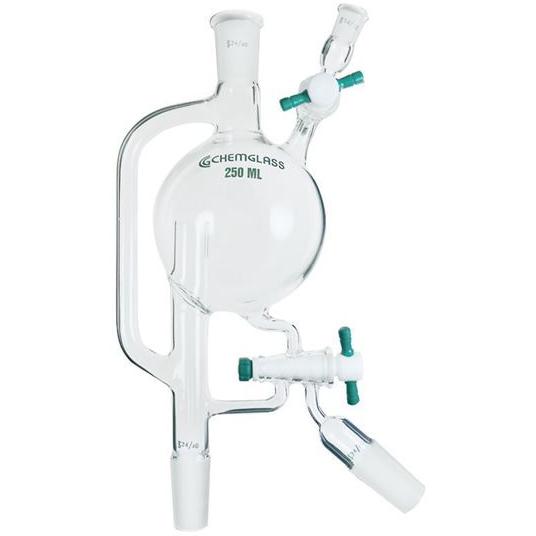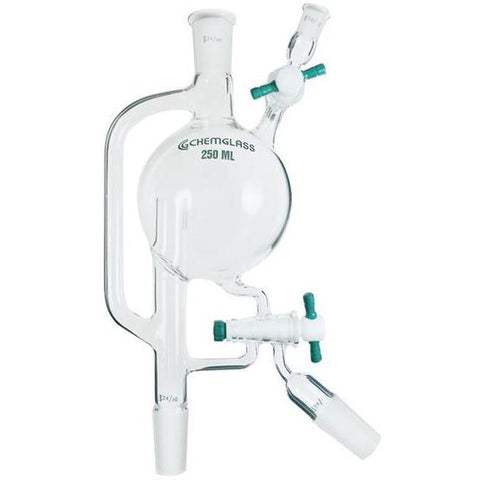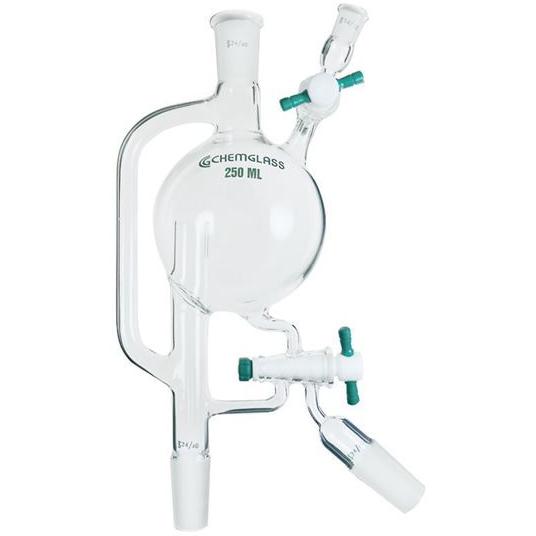 Distilling Heads, Solvent, Modified
SKU
Description
Top Outer Joint
Take-Off Joint
Capacity
Quantity
Price
Add to Cart

CG-1233-01

Solvent Distilling Head, Modified
24/40
24/40
250 mL
1 Each

$606

$444

CG-1233-02

Solvent Distilling Head, Modified
24/40
14/20
250 mL
1 Each

$640.50

$465

CG-1233-03

Solvent Distilling Head, Modified
24/40
24/40
500 mL
1 Each

$616.90

$458

CG-1233-05

Solvent Distilling Head, Modified
24/40
24/40
1000 mL
1 Each

$713.85

$534
Description
Designed to maintain distilled solvents in an inert atmosphere. Top of main vapor tube is open and an additional vapor tube has been added to decrease risk of pressure buildup. Upper sampling port has a 4mm PTFE stopcock with a 14/20 outer joint for use with CG-3022 septa.
Lower drain is centered to allow total drainage of storage head. Double oblique 2mm bore PTFE stopcock on the 250 through 1000mL sizes allows for removal of distilled solvent or return to flask. The 250mL size has a 4mm double oblique stopcock.
Both the uptake tube and top outer joints are 24/40, while the take-off tube is supplied with either a 14/20 or 24/40 inner joint.