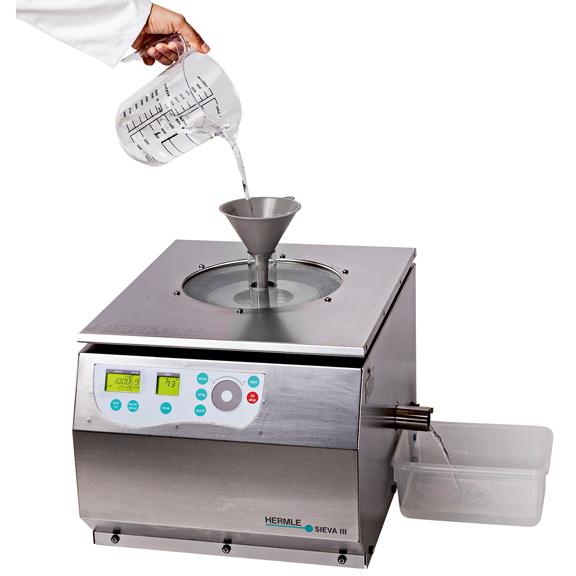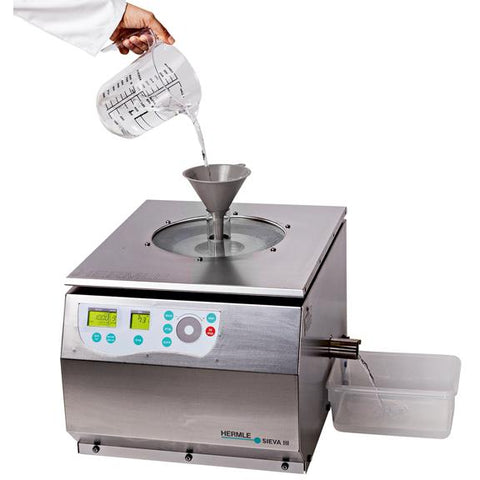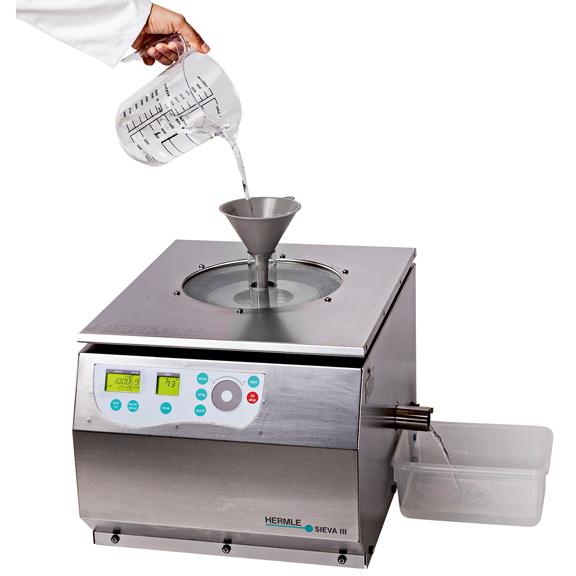 Hermle Sieva 3 Filtration Centrifuge
SKU
Description
Speed
Capacity
Electrical
Quantity
Price
Add to Cart

Z600-S3

SIEVA-3 Filtration Centrifuge
200 to 10,000 rpm
500 mL
120V
1 Each

$15,805

$13,908.40

Z600-S3-TC

SIEVA-3 Filtration Centrifuge with Connection for External Temperature Control
200 to 10,000 rpm
500 mL
120V
1 Each

$18,203

$16,018.64
Description
The SIEVA-3 Filtration Centrifuge is the perfect centrifuge for cake filtration. An opening in the lid allows the (optional) 500mL centrifugal basket to be refilled during rotation. The solids remain in the centrifugal basket and the liquid can run off through a opening on the right side. The inspection window in the centrifuge lid is made of safety glass and enables a visual monitoring of the centrifugation.
The SIEVA-3 is very versatile and suitable for various applications. The stainless steel housing and parts makes the SIEVA-3 corrosion resistant, and easy to clean.
The operating principle of this centrifuge is the cake filtration, the filtration in which the required pressure force is generated in the centrifugal field.
The perforated rotor is lined with a filter cloth. Due to the continuous inflow of the suspension, a filter cake builds up in the rotor, while the clarified liquid drains through the rotor casing or on the edge of the basket.
The filtration centrifuge Sieva-3 is mainly used for batch separation of relatively coarse particles or crystalline substances.
Advanced microprocessor controls allow for setting/displaying of the rotational speed in either rpm or rcf. In addition to retrieving saved programs, the easy to use front panel can adjust accel/decel rates, and change the end of run alarm tone.
Features
Brushless induction drive
Microprocessor control
Active imbalance detection and cut-off
One-hand closing
Emergency lid lock
Stainless steel chamber
Stainless housing
Autoclavable rotors
Display Functions
Splash-proof
Store of up to 99 runs
Quick-key for short runs
10 acceleration and deceleration rates
Permanent indication of pre-set and actual values
Pre-selection of running time from 10 sec to 99h 59min or continious
Simple one handed touch operation also with gloves
| | |
| --- | --- |
| Speed Max. | 10,000 rpm |
| RCF Max. | 7,825 xg |
| Acceleration Time | 9 sec. |
| Deceleration Time | 12 sec. |
| Electrical | 120 or 230V, 50/60hz |
| Dimensions | 15 x 19 x 12 in. |
| Weight | 81 lbs |
Documentation