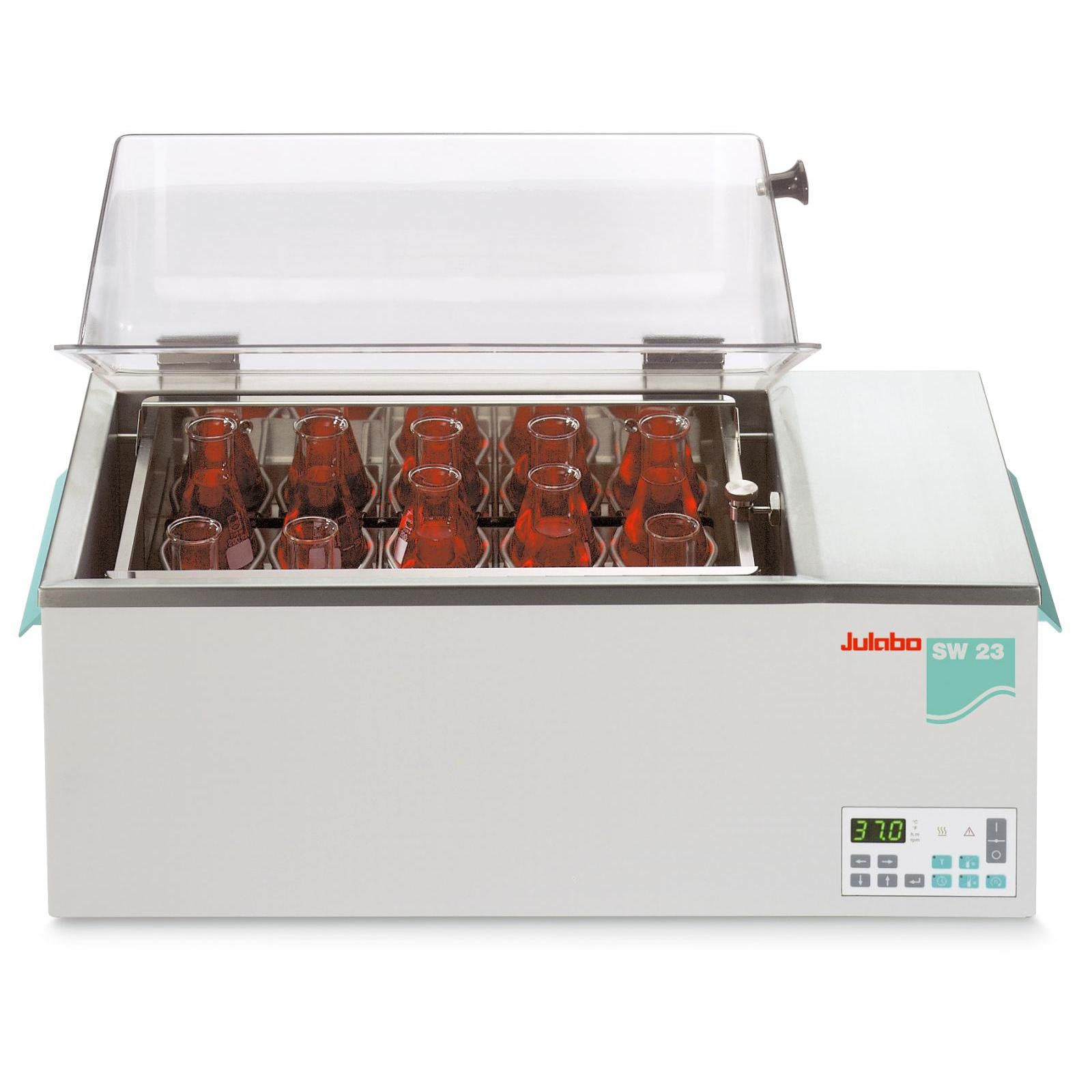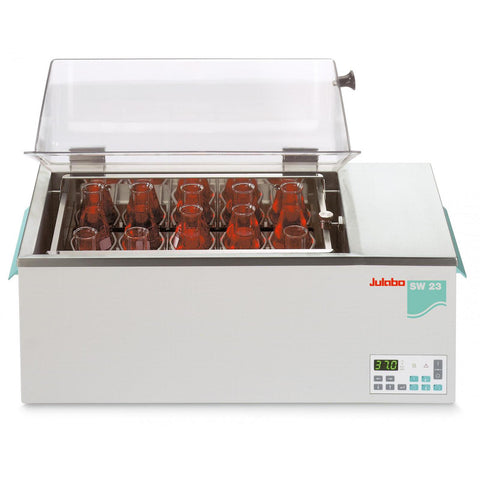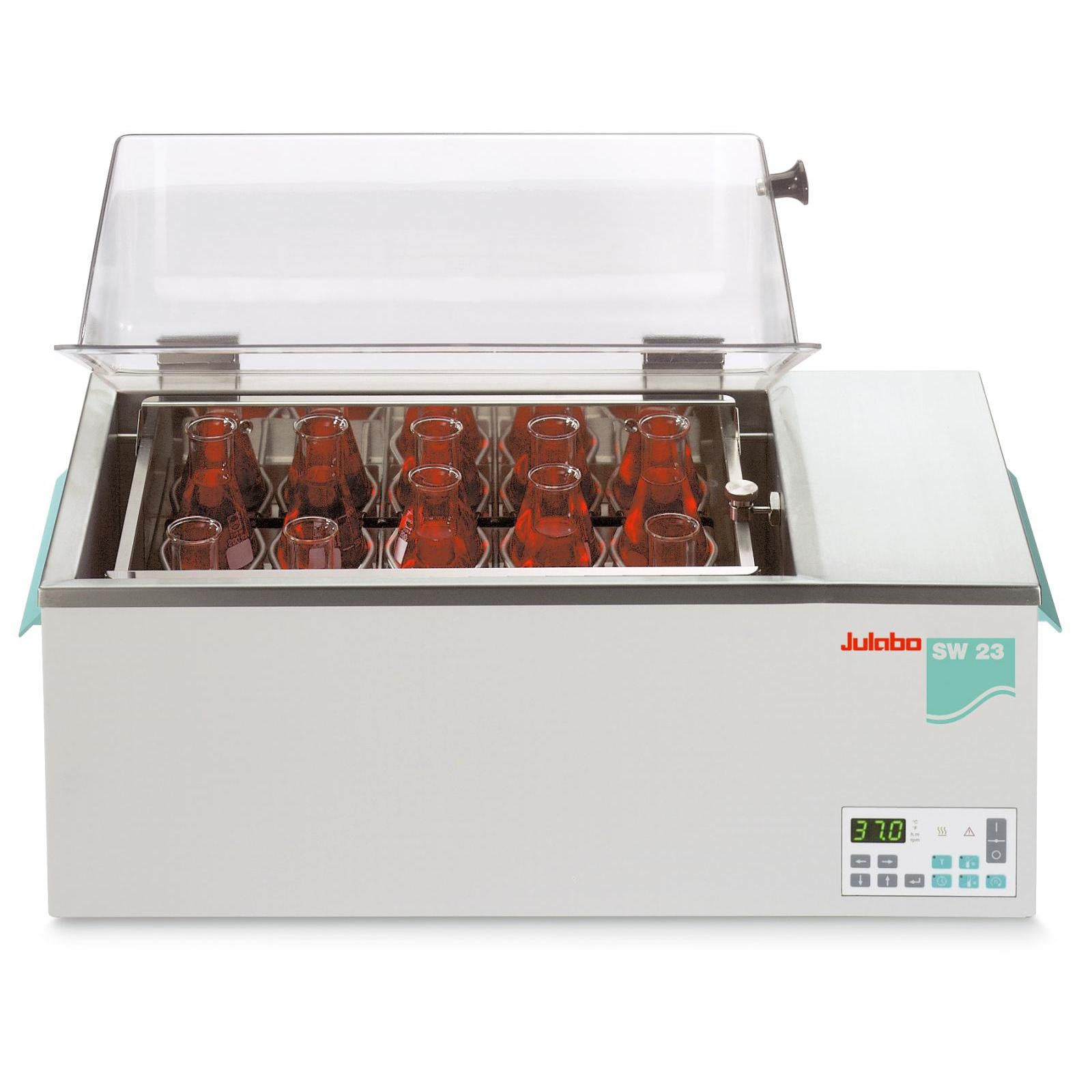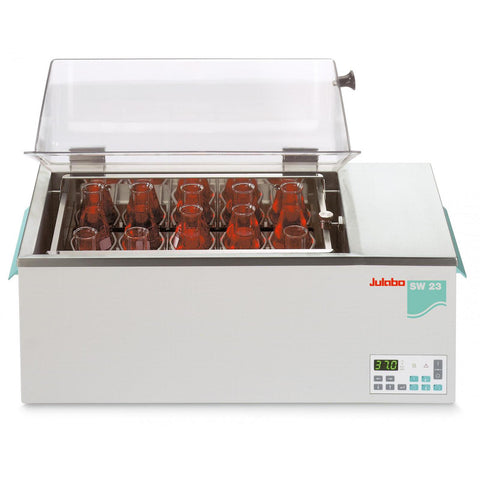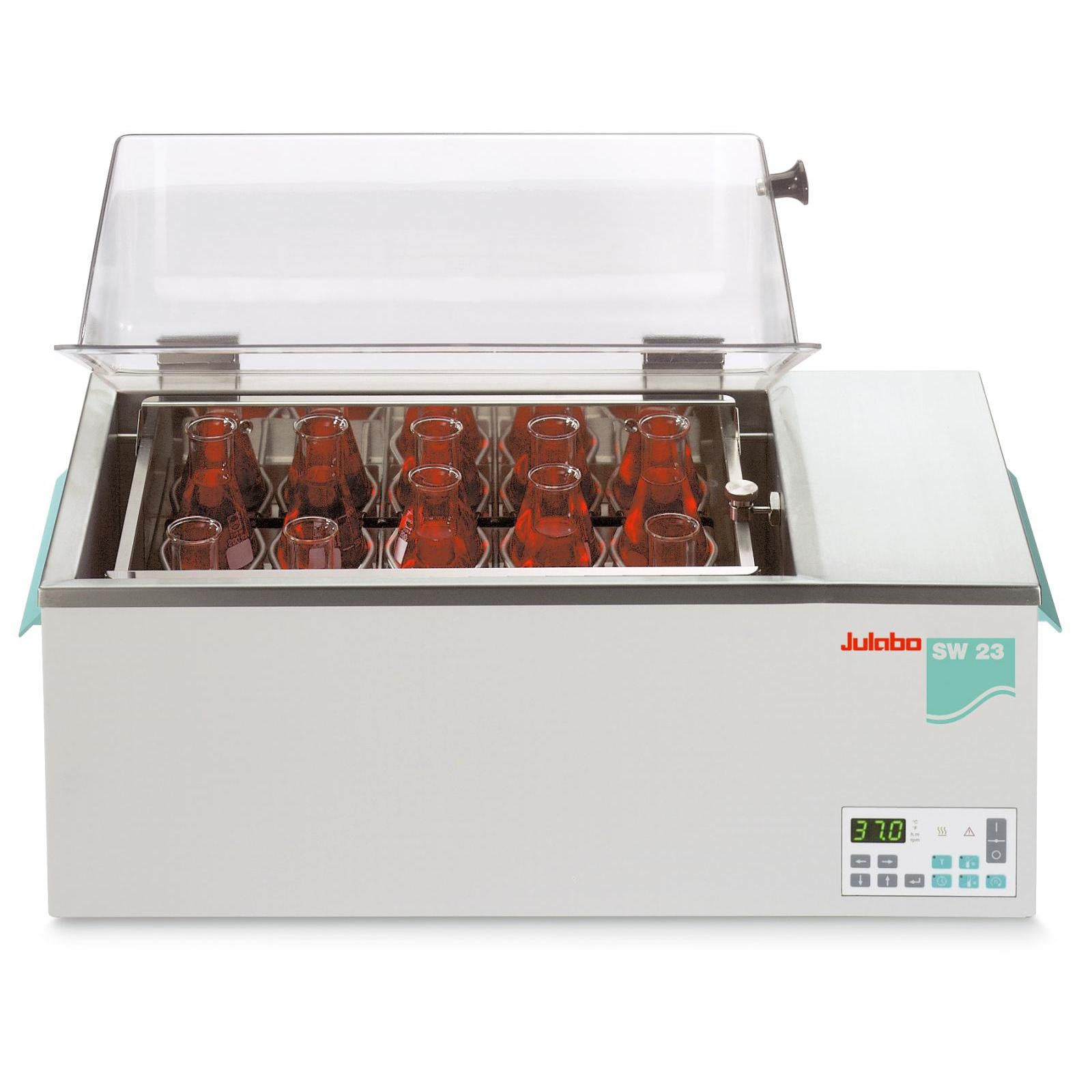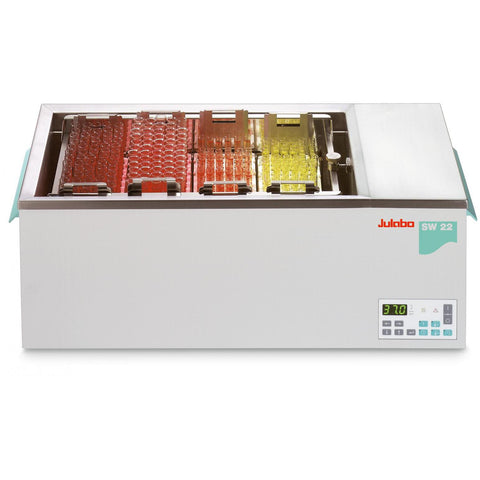 Julabo SW Series Shaking Water Baths
SKU
Description
Capacity
Temperature Range
Temperature Stability
Speed
Electrical
Quantity
Price
Add to Cart

9550322.2.LID

SW22 Shaking Water Bath with Bath Lid
8 to 20 L
+20 to 99 °C
±0.2 °C
20 to 200 rpm
115V/60Hz
1 Each

$4,631

$3,704

9550322.2.CSA/UL.LID

SW22 Shaking Water Bath with Bath Lid
8 to 20 L
+20 to 99 °C
±0.2 °C
20 to 200 rpm
115V/60Hz UL/CSA Certified
1 Each

$5,431

$4,344

9550322.3.LID

SW22 Shaking Water Bath with Bath Lid
8 to 20 L
+20 to 99 °C
±0.2 °C
20 to 200 rpm
230V/50-60Hz
1 Each

$4,631

$3,704

9550323.2.LID

SW23 Shaking Water Bath with Bath Lid
8 to 20 L
+20 to 99 °C
±0.02 °C
20 to 200 rpm
115V/60Hz
1 Each

$5,769

$4,615

9550323.2.CSA/UL.LID

SW23 Shaking Water Bath with Bath Lid
8 to 20 L
+20 to 99 °C
±0.02 °C
20 to 200 rpm
115V/60Hz UL/CSA Certified
1 Each

$6,569

$5,255

9550323.3.LID

SW23 Shaking Water Bath with Bath Lid
8 to 20 L
+20 to 99 °C
±0.02 °C
20 to 200 rpm
230V/50-60Hz
1 Each

$5,769

$4,615
Description
JULABO SW shaking water baths for unsupervised sample incubation. Stainless steel construction with an operating range from +20 to +99.9 °C. User-friendly operation via keypad with bright LED display. Electronic timer from 1 min to 9h 59min. Integrated RS232 interface for integration to PC software for control and data logging. Early low water level warning system. Early warning system with high and low temperature limits ensures that samples maintain the proper temperature.
A removable shaking carriage for easy sample removal. A wide range of accessories, including bath covers, are available. Shaking frequency adjustable from 20 to 200 rpm. Shaking stroke = 15 mm.
SW22 unit with ±0.2 °C stability. SW23 incorporates a water circulation pump for a stability of ±0.02 °C.
Key Benefits
MICROPROCESSOR technology with PID temperature control
Bright MULTI-DISPLAY (LED)
Seamless, splash-proof keypad
Splash-proof mains switch
Electronic timer for setting the running time (0:01 to 9:59 h:min)
On-line communication via built-in RS232 interface
Early warning system with high and low temperature limits
Drain screw for conveniently emptying the bath
Dry-running protection / safety temperature fixed at 105 °C
Wide range of accessories including lift-up
Makrolon bath cover available
EasyTemp control software is available free of charge
Removable shaking carriage
Shaking frequency adjustable from 20 to 200 rpm
Shaking frequency indicated on MULTI-DISPLAY (LED)
Shaking stroke 15 mm
Specifications
| Model | SW22 | SW22 | SW23 | SW23 |
| --- | --- | --- | --- | --- |
| SKU | 9550322.2 | 9550322.3 | 9550323.2 | 9550323.3 |
| Working Temp Range | +20 to 99°C | +20 to 99°C | +20 to 99°C | +20 to 99°C |
| Temperature Stability | ±0.2 °C | ±0.2 °C | ±0.02 °C | ±0.02 °C |
| Heating Capacity | 1kW | 2kW | 1kW | 2kW |
| Voltage Version | 115V/60Hz | 230V/50-60Hz | 115V/60Hz | 230V/50-60Hz |
| Power A | 9A | 9A | 9A | 9A |
| PCF Pressure | - | - | - | - |
| PCF Rate | - | - | - | - |
| Bath Fill Volume | 8 to 20L | 8 to 20L | 8 to 20L | 8 to 20L |
| External Devices | Remote Control | Remote Control | Remote Control | Remote Control |
| Fluid Type | Water | Water | Water | Water |
| Heating & Cooling | Heating | Heating | Heating | Heating |
| Dimensions W x L x H | 27.6 x 13.8 x 10.2 in. | 27.6 x 13.8 x 10.2 in. | 27.6 x 13.8 x 10.2 in. | 27.6 x 13.8 x 10.2 in. |
| Weight | 49 lbs | 49 lbs | 51 lbs | 51 lbs |
Documentation