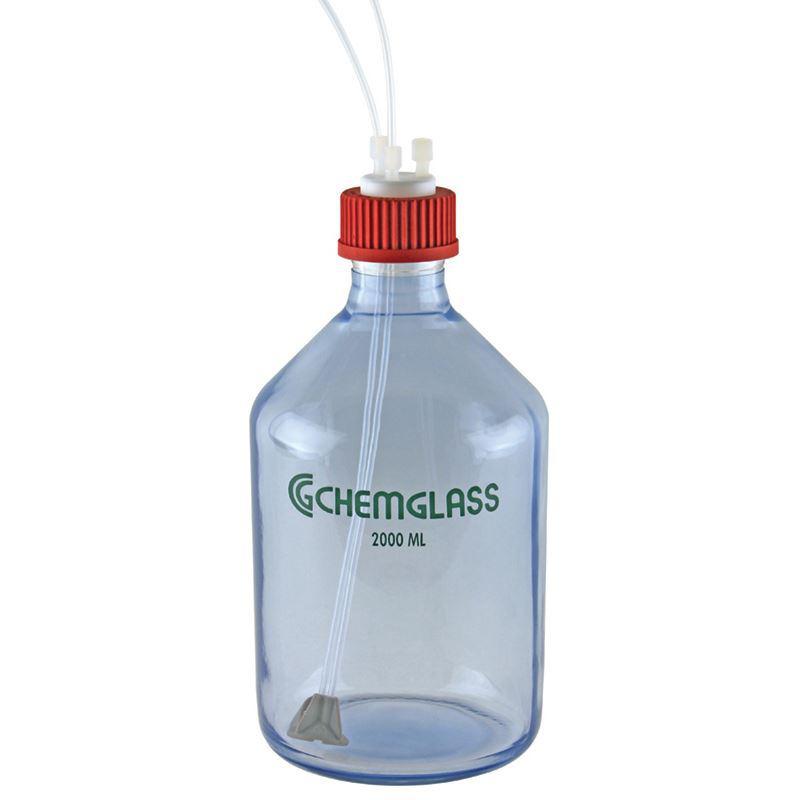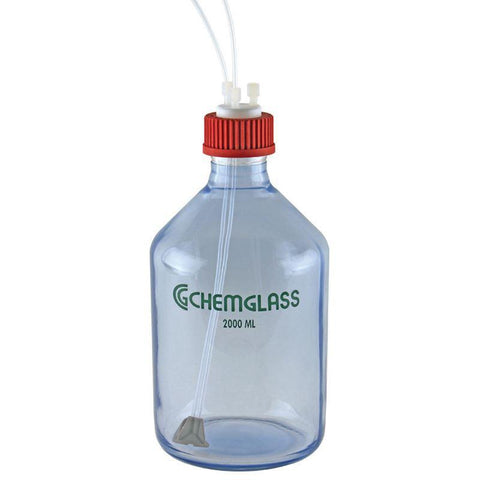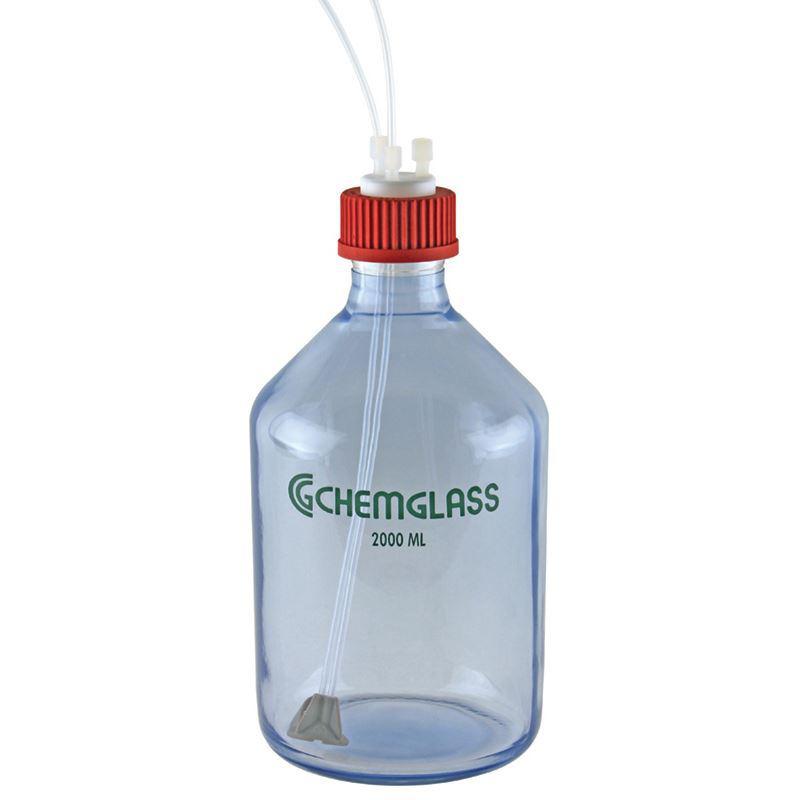 Mobile Phase HPLC Solvent Reservoir System, Complete
| SKU | Description | Capacity | Quantity | Price | Add to Cart |
| --- | --- | --- | --- | --- | --- |
| CG-1167-11 | Solvent Reservoir System, Complete | 1 L | 1 Each | $343 | |
| CG-1167-12 | Solvent Reservoir System, Complete | 2 L | 1 Each | $398 | |
| CG-1167-13 | Solvent Reservoir System, Complete | 5 L | 1 Each | $676 | |
| CG-1167-14 | Solvent Reservoir System, Complete | 10 L | 1 Each | $856 | |
Description
The CG-1167 HPLC Cap system provides the safest and most economical way of storing high performance, low pressure liquid chromatography mobile phase, sparging preventing bubbles from entering the system as well as collecting sample waste.
The bottle is blue tinted plastic coated flat bottom, which provides additional safety by containing the glass fragments from accidents and allowing enough time to transfer samples or discarding safely.
A CG-1167-45 cap assembly, manufactured of Polybutyleneteraphthalate (PBT), and PTFE which will allow the cap to withstand higher temperatures 200C° and is resistant to alcohols, ethers, hydrocarbons, and strong acids. The CG-1166-08 cap assembly fits GL45 threaded bottles and has a PTFE bulkhead with three 1/4"- 28 threaded ports to accommodate fittings for PTFE 1/8" O.D. tubing.
The unique PEEK bottom of the bottle inlet filter is designed to withdraw 99% of the HPLC mobile phase liquid out of the reservoir bottle without tilting to bottle, preventing a safety hazard. The bottom of the bottle inlet filter has a 2um filter which provides sparging capabilities preventing bubbles from entering the system. The inlet filter accepts 1/8" OD tubing which is provided along with the necessary flangeless tubing nuts and ferrules.
NOTE: The 2µm filter has a maximum flow rate of 30mL per minute. If greater flow rates are required a 10um filter is available having a flow rate of 100mL per minute.
The Complete Solvent Reservoir Consists of:
1 each Plastic Coated Glass Reservoir
1 each 3-Hole Cap Assembly
1 each Combination Inlet/Sparger Filter, 2um
2 each CG-1164-N-02 Flangeless Nuts for 1/8" Tubing
2 each CG-1164-F-02 Flangeless Ferrule for 1/8" Tubing
1 each CG-1166-10 Tefzel Plug
1 each CG-1164-02 1/8" PTFE Tubing x 10' long