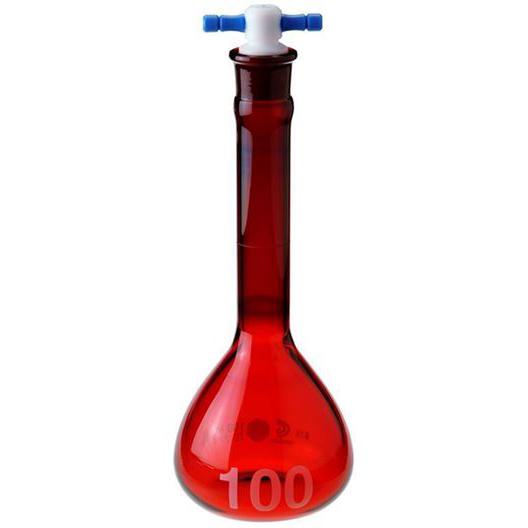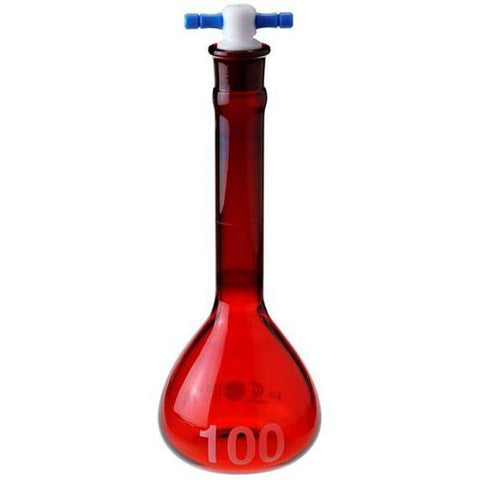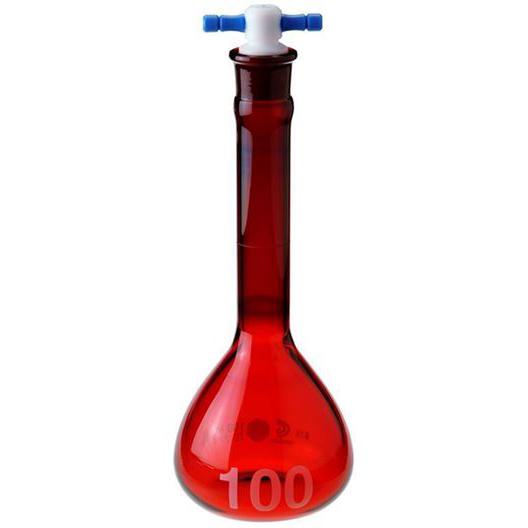 Volumetric Flasks, Red Stained, Class A, Wide Mouths, Heavy Duty, PTFE Stoppers
SKU
Description
Capacity
Stopper Size
Handle Color
Tolerance
Height
Quantity
Price
Add to Cart

CG-1618-05

Volumetric Flask, Low Actinic, PTFE Stopper, Class A
5 mL
#13
Orange
± 0.08 mL
96 mm
1 Each

$87.95

$74

CG-1618-10

Volumetric Flask, Low Actinic, PTFE Stopper
10 mL
#13
Orange
± 0.08 mL
101 mm
1 Each

$53.15

$47

CG-1618-20

Volumetric Flask, Low Actinic, PTFE Stopper, Class A
20 mL
#13
Orange
± 0.08 mL
128 mm
1 Each

$54.75

$49

CG-1618-25

Volumetric Flask, Low Actinic, PTFE Stopper, Class A
25 mL
#13
Orange
± 0.08 mL
131 mm
1 Each

$54.75

$50

CG-1618-50

Volumetric Flask, Low Actinic, PTFE Stopper, Class A
50 mL
#13
Orange
± 0.08 mL
148 mm
1 Each

$59.20

$55

CG-1618-100

Volumetric Flask, Low Actinic, PTFE Stopper, Class A
100 mL
#16
Blue
± 0.10 mL
180 mm
1 Each

$80.25

$73

CG-1618-200

Volumetric Flask, Low Actinic, PTFE Stopper, Class A
200 mL
#19
Blue
± 0.12 mL
175 mm
1 Each

$81.30

$71

CG-1618-250

Volumetric Flask, Low Actinic, PTFE Stopper, Class A
250 mL
#19
Green
± 0.20 mL
250 mm
1 Each

$92.30

$80

CG-1618-500

Volumetric Flask, Low Actinic, PTFE Stopper, Class A
500 mL
#19
Green
± 0.20 mL
275 mm
1 Each

$108.70

$90

CG-1618-1L

Volumetric Flask, Low Actinic, PTFE Stopper, Class A
1000 mL
#22
Yellow
± 0.30 mL
350 mm
1 Each

$205.75

$168

CG-1618-2L

Volumetric Flask, Low Actinic, PTFE Stopper, Class A
2000 mL
#27
Red
± 0.50 mL
380 mm
1 Each

$415.05

$328
Description
Low actinic red stained glass provides protection to light sensitive solutions. Allowing less than 1% transmission below 400nm and 5% from 400-600nm. Wide mouth design facilitates mixing, pipette access, sampling and filling. Unique Flat Bottom Interior permits the use of a standard stir bar.
Large permanent white letters make the capacity clearly visible. Flasks are calibrated "To Contain" at Class A tolerances, per ASTM E288 specifications. Supplied complete with a PTFE stopper.
PLEASE NOTE: Volumetric Flask Capacities of 20mL, 500mL, 1,000mL, and 2,000mL are NOT included in the the ASTM E288 Specifications. However, flasks are calibrated to Class A tolerances.