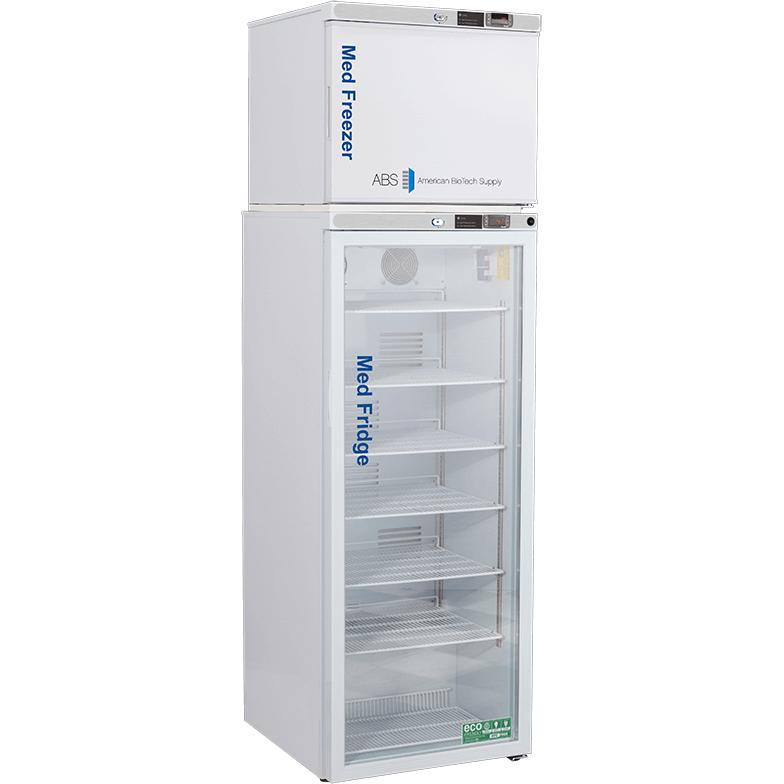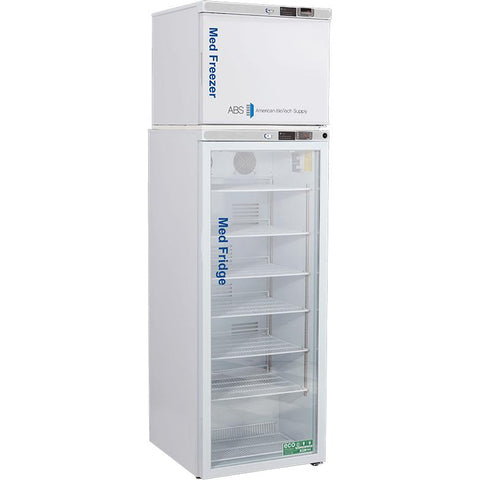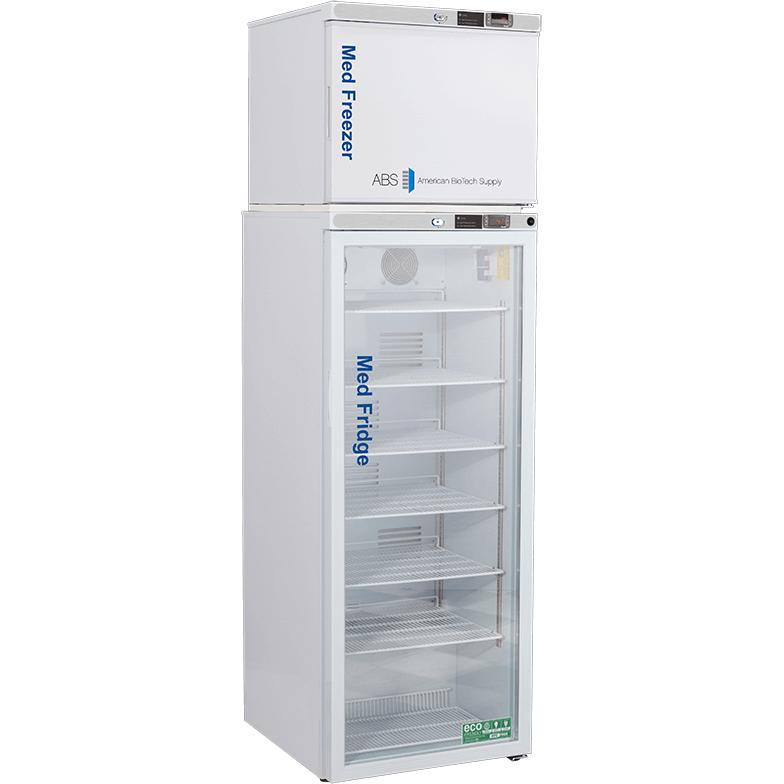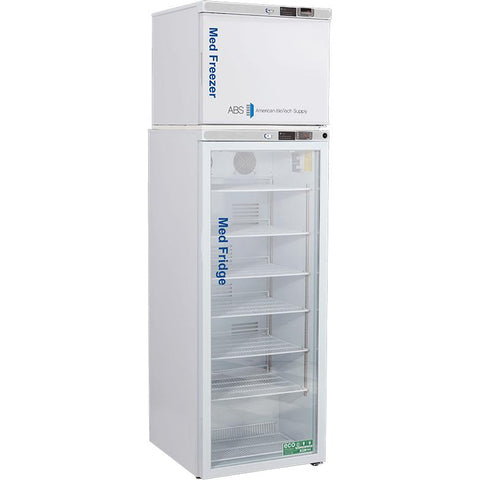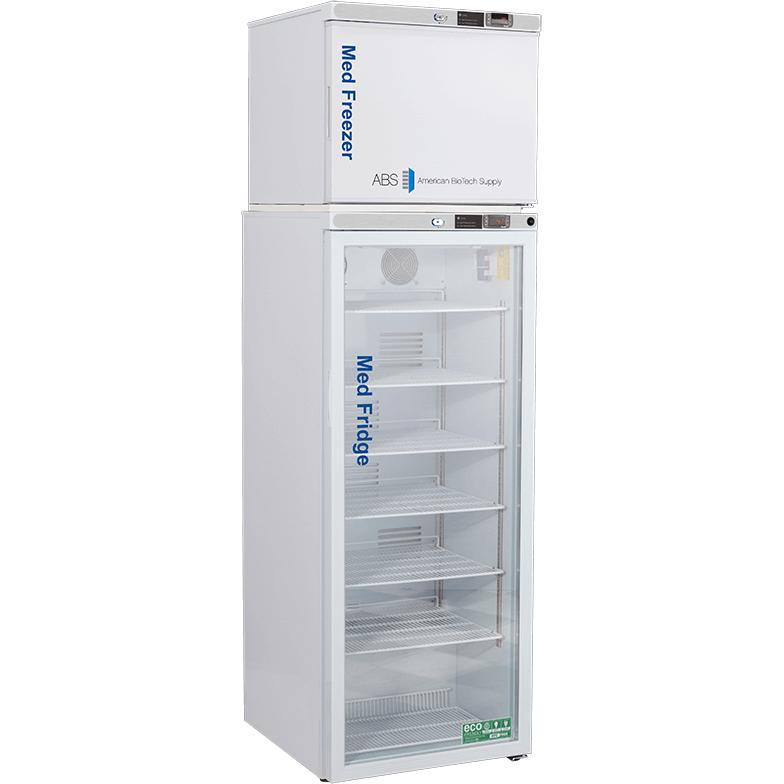 ABS Pharmacy 12 cu ft Combination Refrigerators/Freezers
Image
SKU
Description
Capacity
Doors
Defrost Type
Electrical
Quantity
Price
Add to Cart

PH-ABT-HC-RFC12

Pharmacy Dual Temp Combination Refrigerator/Freezer
12 cu ft (10.5 cu ft / 1.7 cu ft)
Solid / Solid
Cycle Refrigerator / Manual Freezer
115V, 60Hz, 2.3A, UL/C-UL Listed
1 Each

$5,630

$4,385

PH-ABT-HC-RFC12A

Pharmacy Dual Temp Combination Refrigerator/Freezer
12 cu ft (10.5 cu ft / 1.3 cu ft)
Solid / Solid
Cycle Refrigerator / Auto Freezer
115V, 60Hz, 2.3A, UL/C-UL Listed
1 Each

$5,776

$4,489

PH-ABT-HC-RFC12G

Pharmacy Dual Temp Combination Refrigerator/Freezer
12 cu ft (10.5 cu ft / 1.7 cu ft)
Glass / Solid
Cycle Refrigerator / Manual Freezer
115V, 60Hz, 2.3A, UL/C-UL Listed
1 Each

$5,630

$4,385

PH-ABT-HC-RFC12GA

Pharmacy Dual Temp Combination Refrigerator/Freezer
12 cu ft (10.5 cu ft / 1.3 cu ft)
Glass / Solid
Cycle Refrigerator / Auto Freezer
115V, 60Hz, 2.3A, UL/C-UL Listed
1 Each

$5,776

$4,489
Description
The Premier Pharmacy Dual Temp Combination units feature separate microprocessor temperature controller allowing for precise temperature control, verification and recovery. An interior fan driven, forced-draft air circulation system provides excellent temperature uniformity and recovery after door openings. REFRIGERATORS ONLY
All models are equipped with digital temperature displays for convenient monitoring. Critical samples and supplies are security backed with an extensive package of audible and visual alarms. The freezer units feature either an automatic or manual defrost operating system. For manual defrost freezers, periodic manual defrosting is required.
These models requires 4" of clearance around back and sides of the unit for proper ventilation. Improper installation will void the warranty and will lead to temperature maintenance issues, overheating and possible failure.
The acceptable temperature ranges for vaccine storage are 36°F to 46°F (or 2°C and 8°C) in the refrigerator and -58°F and 5°F (or -50°C and -15°C) in freezers.
Environmentally friendly, natural hydrocarbon (HC) refrigerants (not containing hydrofluorocarbons) vastly reduce global-warming potential (GWP) while meeting new EPA/SNAP mandates and UL, ASHRAE compliance guidelines.
Specifications
12 CU. FT. Capacity
Refrigerator - Six adjustable shelves with guard rail on back to prevent product from being pushed against back wall.
Freezer - Two adjustable shelves with guard rail on back to prevent product from being pushed against back wall.
Refrigerator & Freezer - Bottom footed shelf to allow air cirucluation.
Refrigerator - Forced draft circulation.
Vaccine storage power cord warning label.
Keyed door locks.
Magnetic door gasket for positive seal.
Integrated door handles.
Leveling legs.
Stacking Kit.
HFC-FREE Refrigerant (R600A), Foam insulation and packaging.
Pharmacy Refrigerator Toolkit and temperature logs.
Two-Year parts and labor warranty, plus an additional Three-Year compressor parts warranty.
PLEASE NOTE THIS UNIT REQUIRES 2 OUTLETS
Temperature Controller
Refrigerator & Freezer - Microprocessor temperature Controller.
Refrigerator & Freezer - Digitial Temperature display with battery back-up to support temperature monitoring and alarms.
Adjustable operating temperature range:
Refrigerator: 36°F TO 46°F (2°C TO 8°C)
Freezer: 5°F TO -13°F (-15°C TO -25°C)
Temperature monitor device (TMD) complies with the current CDC guildines, with 3 years certification of calibration, "buffered" probe in the product simulated solution, Min/Max memory, F/C switchable, field installable, and visual & audible temp alarm.
Refrigerator & Freezer - Audible and visual high and low temperature alarms.
Refrigerator & Freezer - 2 Probes; 1 in air and 1 in sample bottle.
Refrigerator & Freezer - Remote alarm contacts.
(FOR AUTO DEFROST UNITS ONLY)
Auto Defrost cycle every 6 hours:
Max Air Temp in empty Freezer: 4.34°C
Max Air Temp in loaded Freezer: -2.89°C
Max Sample Temp in empty Freezer: -4.76°C
Max Sample Temp in loaded Freezer: -9.58°C
Documentation