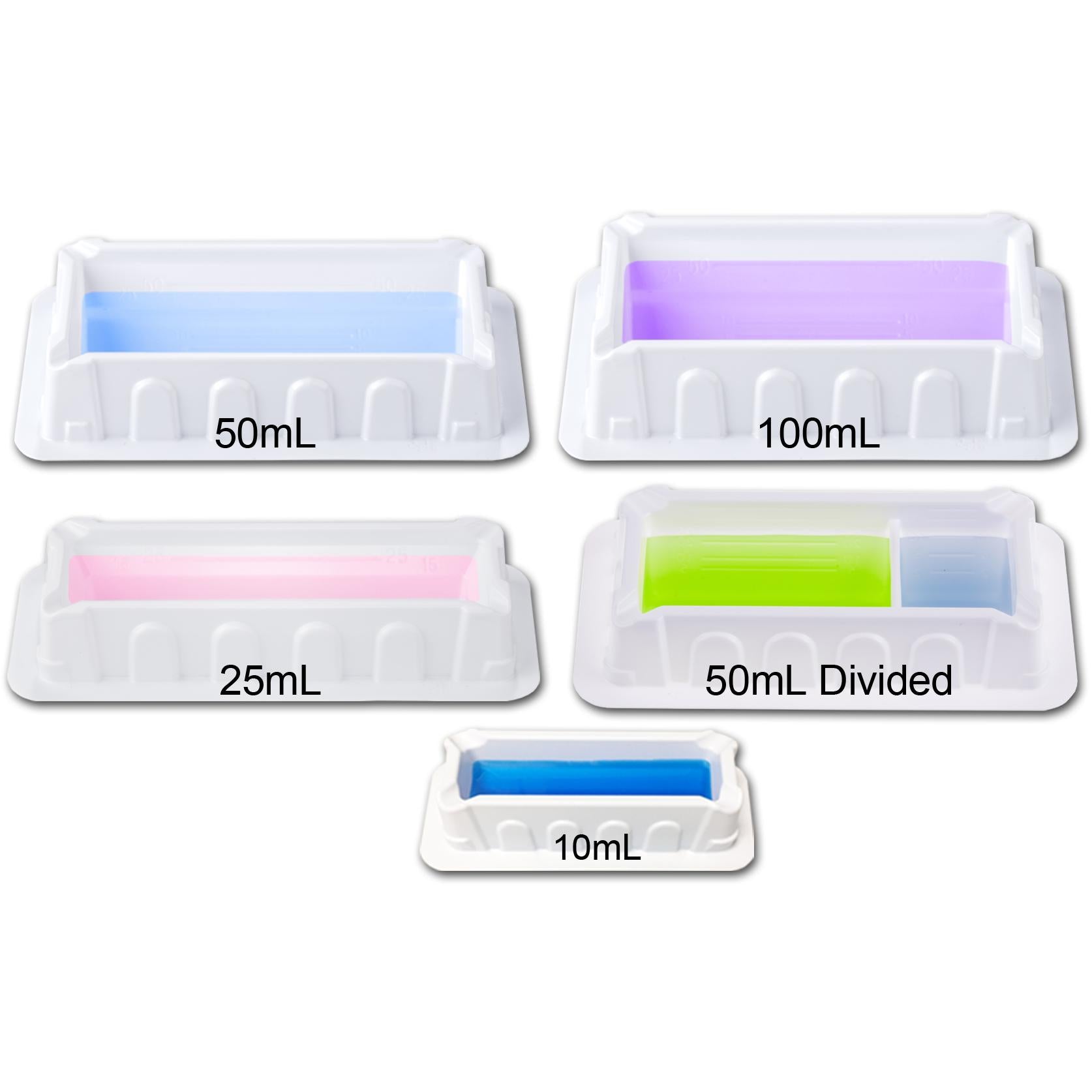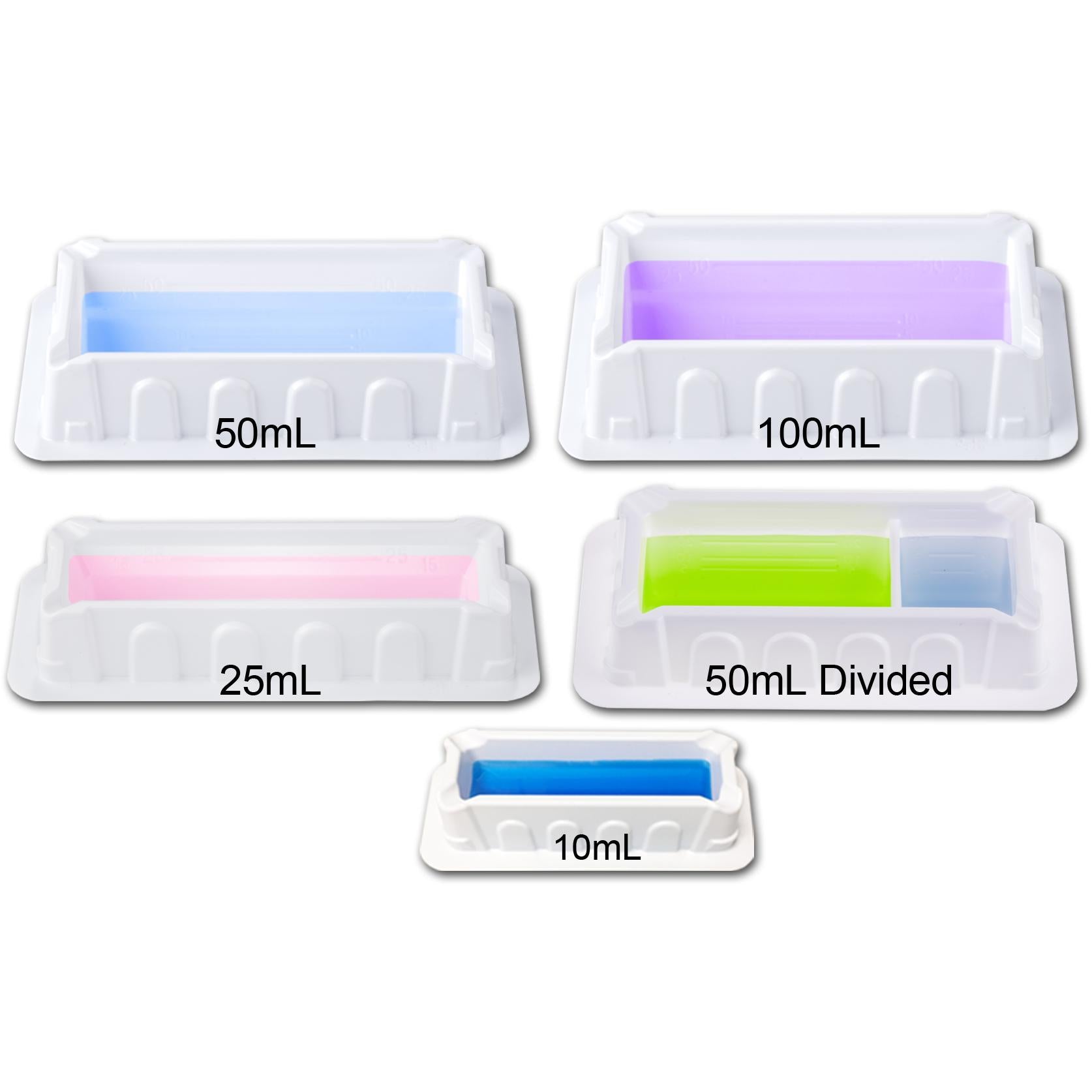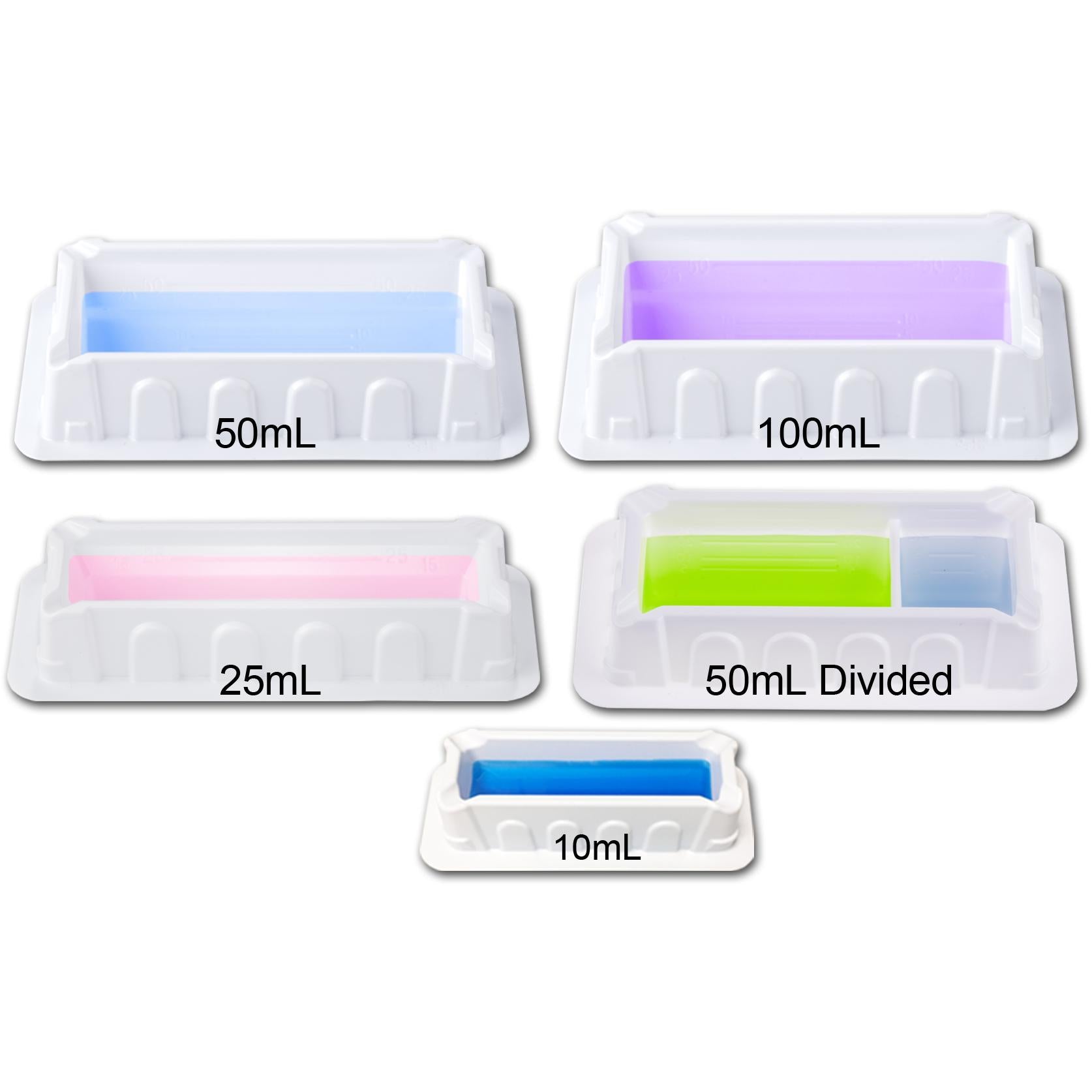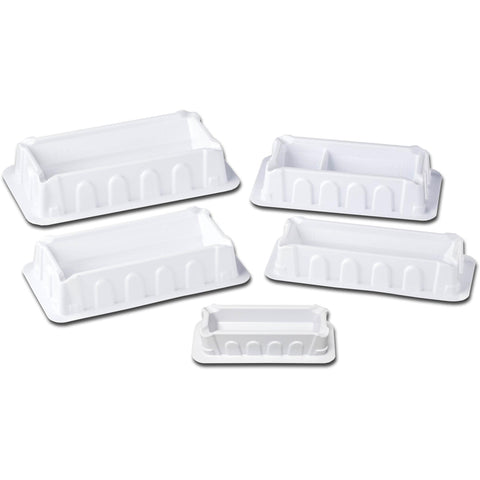 Disposable Reagent Reservoirs
Image
SKU
Description
Capacity
Sterility
Packaging
Quantity
Price
Add to Cart

P8010

Disposable Reagent Reservoirs
10 mL
Non-Sterile
Bulk Packed
300 Pack

$111.28

$67

P8010-1S

Disposable Reagent Reservoirs
10 mL
Sterile
Individually Wrapped
100 Pack

$111.28

$63

P8010-5S

Disposable Reagent Reservoirs
10 mL
Sterile
5 per bag
200 Pack

$111.28

$79

P8025

Disposable Reagent Reservoirs
25 mL
Non-Sterile
Bulk Packed
100 Pack

$58.24

$49

P8025-1S

Disposable Reagent Reservoirs
25 mL
Sterile
Individually Wrapped
100 Pack

$122.08

$78

P8025-5S

Disposable Reagent Reservoirs
25 mL
Sterile
5 per bag
200 Pack

$122.08

$89

P8050

Disposable Reagent Reservoirs
50 mL
Non-Sterile
Bulk Packed
100 Pack

$58.24

$43

P8050-1S

Disposable Reagent Reservoirs
50 mL
Sterile
Individually Wrapped
100 Pack

$122.08

$86

P8050-5S

Disposable Reagent Reservoirs
50 mL
Sterile
5 per bag
200 Pack

$122.08

$91

P8051

Disposable Reagent Reservoirs, Divided
50 mL
Non-Sterile
Bulk Packed
100 Pack

$58.24

$43

P8051-1S

Disposable Reagent Reservoirs, Divided
50 mL
Sterile
Individually Wrapped
100 Pack

$122.08

$86

P8051-5S

Disposable Reagent Reservoirs, Divided
50 mL
Sterile
5 per bag
200 Pack

$122.08

$91

P8100

Disposable Reagent Reservoirs
100 mL
Non-Sterile
Bulk Packed
100 Pack

$58.24

$43

P8100-1S

Disposable Reagent Reservoirs
100 mL
Sterile
Individually Wrapped
100 Pack

$122.08

$90

P8100-5S

Disposable Reagent Reservoirs
100 mL
Sterile
5 per bag
200 Pack

$122.08

$95
Description
Our multi-channel solution reservoirs are designed for use with all multichannel pipettes. Standard 4 channel, 8 channel, 12 channel and various special purpose pipettes are all compatible with these disposable, polystyrene reservoirs. To facilitate easy, dripless pour-off of unused reagents and solutions, all versions have indented "spouts" in each corner. Bottoms are formed with a sharply tapered "V" shape to minimize waste and reagent consumption.
Features
Rigid polystyrene
Molded graduations
Tapered "V" bottoms
Pouring spout on each corner
Non-stick stacking design
Whether your application calls for bulk packaging, packs of 5, or individually wrapped reservoirs, our reservoirs are supplied sterile and are packed in environmentally friendly packaging, within biodegradable bags and recycled cardboard boxes.
Made of virgin, medical grade polystyrene with no animal product content, all sizes are available non-sterile or sterile via ethylene oxide gas. Sterile Reservoirs are sealed in easy-to-open tear-strip polyethylene packaging and are RNase, DNase and pyrogen-free.