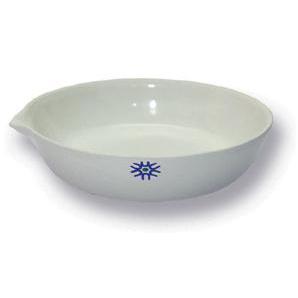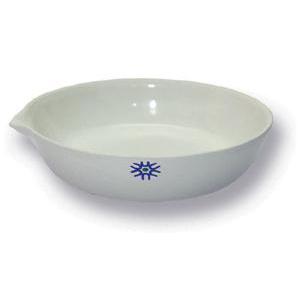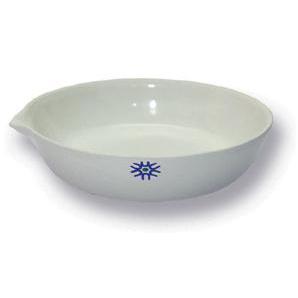 Evaporating Dishes, Flat Form, Porcelain
SKU
Description
Capacity
Top O.D.
Quantity
Price
Add to Cart

JEF035

Evaporating Dishes, Flat Form, Porcelain
35 mL
65 mm
6 Pack

$26.65

$22

JEF050

Evaporating Dishes, Flat Form, Porcelain
50 mL
75 mm
6 Pack

$29.05

$24

JEF080

Evaporating Dishes, Flat Form, Porcelain
80 mL
85 mm
6 Pack

$33.40

$28

JEF100

Evaporating Dishes, Flat Form, Porcelain
100 mL
100 mm
6 Pack

$42.25

$37

JEF200

Evaporating Dishes, Flat Form, Porcelain
200 mL
120 mm
6 Pack

$48.95

$42

JEF300

Evaporating Dishes, Flat Form, Porcelain
300 mL
150 mm
6 Pack

$96.35

$88
Description
Shallow form with lip and flat bottom. Glazed except for rim and part of outside bottom.
Autoclavable. Withstand temperatures to 1150°C. To prevent thermal stress cracks, we strongly recommend a heating/cooling rate not exceeding 200°C per hour. Our porcelain evaporating dishes offer excellent resistance to acids and alkalies except for hydrofluoric acid.
Thermal Shock Resistance - average coefficient of expansion from 20° C to 200° C is 3.56 x 10-5, gradually increasing to 4.69 x 10-5 at 1050°C. Every batch of porcelain is heat tested in our factory.
Glaze - No softening occurs up to 1000°C, and it is extremely white.
Resistance to Chemical Action - Resistance to acids and alkalies is excellent, except for hydrofluoric acid.