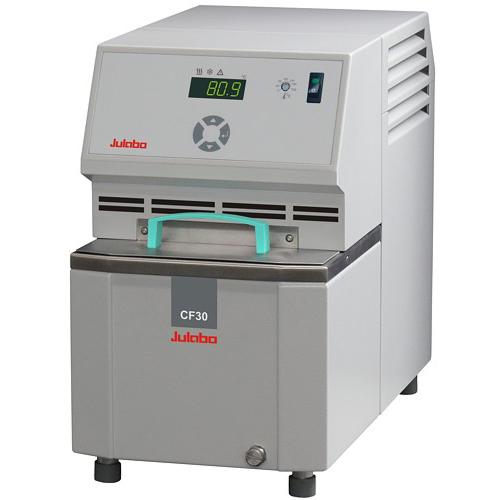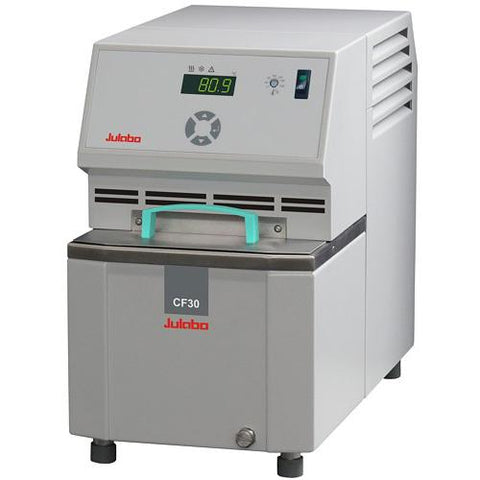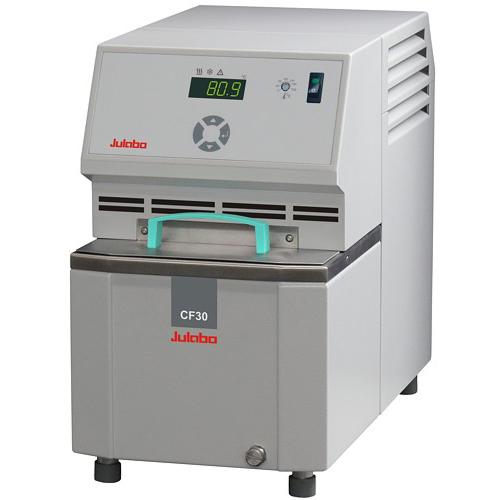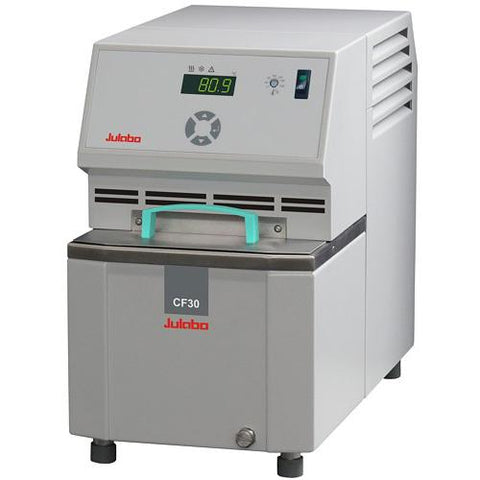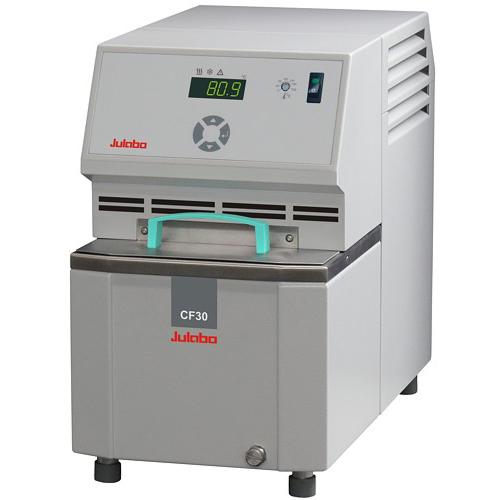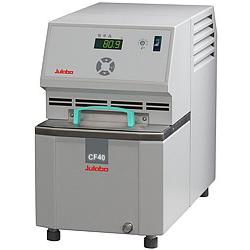 Julabo Economy Cryo-Compact Refrigerated/Heating Circulators
Image
SKU
Description
Filling Volume
Temperature Range
Temperature Stability
Electrical
Quantity
Price
Add to Cart

9400330.2

CF30 Cryo-Compact Circulator
3.5 L
-30 to 150 °C
±0.03 °C
115V / 60Hz
1 Each

$8,871

$8,279

9400330.13

CF30 Cryo-Compact Circulator
3.5 L
-30 to 150 °C
±0.03 °C
230V / 60Hz
1 Each

$8,871

$8,279

9400340.2

CF40 Cryo-Compact Circulator
5.5 L
-40 to 150 °C
±0.03 °C
115V/60Hz
1 Each

$10,062

$9,391

9400340.2.CSA/UL

CF40 Cryo-Compact Circulator
5.5 L
-40 to 150 °C
±0.03 °C
115V/60Hz; UL/CSA Certified
1 Each

$11,202

$10,455

9400340.13

CF40 Cryo-Compact Circulator
5.5 L
-40 to 150 °C
±0.03 °C
230V/60Hz
1 Each

$10,062

$9,391
Description
The Cryo-Compact refrigerated/heating circulators have a very small footprint which is ideal for placing on bench top or in a fume hood with limited space. Models feature M16x1 male pump connections for external temperature applications with 8 and 12 mm hose barbs.
The Economy CF30/CF40 models are ideal for routine applications with a working temperature range from -30(-40) to +150 °C with a pressure pump. Units feature a splash-proof keypad with LED temperature display, PID temperature control and RS232 interface for PC connection.
Included with each unit: 2 each barbed fittings for tubing 8 and 12 mm inner dia. (pump connections M16x1 female).
Features
Ergonomic design and easy operation
Small overall dimensions for lowest space requirement
Splash-proof keypad
Large, bright LED temperature display
Precise PID temperature control
RS232 interface for PC connection
Adjustable high temperature cut-off
Classification 3 according to DIN12876-1
Pump connections for external temperature applications
Bath opening for temperature control of small objects in the bath
Front drain
Specifications
| | | |
| --- | --- | --- |
| Model | 9400330 | 9400340 |
| Model series | Economy Cryo-Compact Circulators | Economy Cryo-Compact Circulators |
| Working temperature range | -30 to 150 °C | -40 to 150 °C |
| Temperature stability | ±0.03 °C | ±0.03 °C |
| Setting / display resolution | 0.1 °C | 0.1 °C |
| Temperature Display | LED | LED |
| Heating capacity | 1 kW | 1 kW |
| Cooling capacity (Medium Ethanol) | 0.32 kW @ 20°C; 0.25 kW @ 0°C; 0.15 kW @ -20°C | 0.47 kW @ 20°C; 0.4 kW @ 0°C; 0.28 kW @ -20°C |
| Pump capacity flow rate | 15 l/min | 15 l/min |
| Pump capacity flow pressure | 5.1 psi | 5.1 psi |
| Bath opening / bath depth (W x L / D inch) | 6.3 x 1.2 / 5.5 | 7.5 x 1.2 / 7.5 |
| Pump connections | M16x1 | M16x1 |
| Barbed fittings diameter (ID / mm) | 8 / 12 | 8 / 12 |
| Filling volume | 3.5 liters | 5.5 liters |
| Refrigerant | R134a | R404A |
| Digital interface | RS232 (Optional Profibus) | RS232 (Optional Profibus) |
| Ambient temperature | 5 to 40 °C | 5 to 40 °C |
| Dimensions W x L x H | 9.4 x 18.1 x 15.7 in. | 11 x 18.1 x 18.1 in. |
| Weight | 77 lbs | 90 lbs |
| Classification according to DIN12876-1 | Classification III (FL) | Classification III (FL) |
| Included with each unit | 2 each barbed fittings for tubing 8 and 12 mm inner dia. (pump connections M16x1 female). | 2 each barbed fittings for tubing 8 and 12 mm inner dia. (pump connections M16x1 female). |
| Cooling of compressor/th> | Air | Air |
| Power requirement V / Hz / A | 115/60/13 | 115/60/16 |
| Available voltage versions | 230V/50Hz; 230V/60Hz; 115V/60Hz | 230V/50Hz; 230V/60Hz; 115V/60Hz |