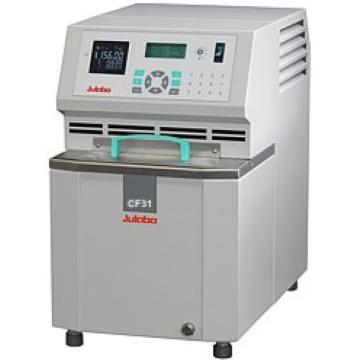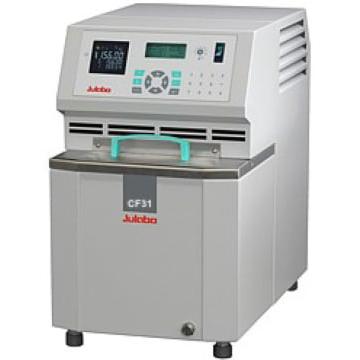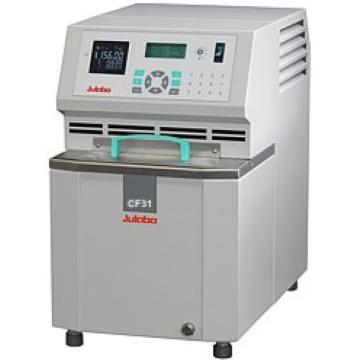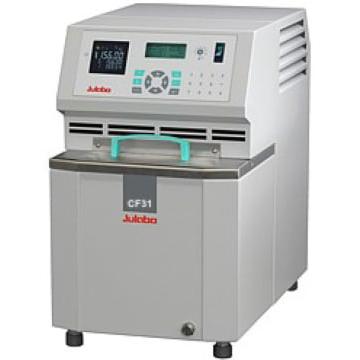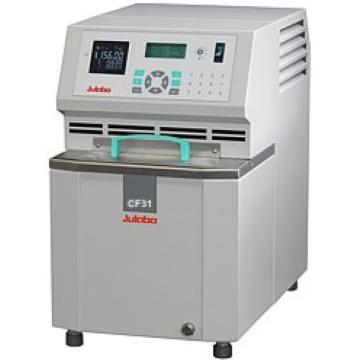 Julabo HighTech™ CF31 Cryo-Compact Circulators, -30 to 200°C
Image
SKU
Description
Filling Volume
Temperature Range
Temperature Stability
Electrical
Quantity
Price
Add to Cart

9400331.2

HighTech CF31 Cryo-Compact Circulator
3.5 L
-30 to 200°C
+/-0.02°C
115V/60Hz
1 Each

$10,533

$9,830
Description
The top class for demanding applications of all types.
Cryo-Compact Circulator for internal and external temperature applications.
The CF series offers compact refrigerated/heating circulators. With small overall dimensions the units can even be placed on a very small surface or within a complex installation. All models offer a heating capacity of 2 kW and classification 3 according to DIN12876-1. The maximum ambient temperature of +40°C as well as a ventilation air cooling allow installing the units very closely side by side with other units or directly under a fume hood. Furthermore all the models feature pump connections for external temperature applications and a bath opening for temperature control of small objects directly in the circulator bath. Wetted parts are made of high quality stainless steel or plastic. The instruments provide a reliable Microprocessor electronics with high temperature stability as well as warning and safety functions.
Your advantages
Ergonomic design and easy operation
Small overall dimensions for lowest space requirement
Splash-proof keypad
Bright VFD display and interactive LCD dialog display
Highly precise ICC cascade temperature control
RS232/RS485 interface for PC connection
Electronically adjustable pump stages
External Pt100 sensor connection
Integrated programmer with 6x60 program steps
Early warning system for low liquid level
3-point calibration
TCF Temperature Control Features
Adjustable high temperature cut-off
Classification 3 according to DIN12876-1
Pump connections for external temperature applications
Bath opening for temperature control of small objects in the bath
Front drain
Specifications
| Part # | 9400331 |
| --- | --- |
| Model series | HighTech CF31 |
| Category | Cryo-Compact Circulators |
| Working Temperature Range | -30 to +200 °C |
| Temperature Stability | +/-0.02 °C |
| Setting / Display Resolution | 0.01 °C |
| Integrated programmer | 6x60 steps |
| Temperature Display | VFD, LCD |
| Heating Capacity | 1 kW |
| Cooling Capacity (Medium Ethanol) @ 20°C | 0.32 kW |
| Cooling capacity (Medium Ethanol) @ 0°C | 0.25 kW |
| Cooling capacity (Medium Ethanol) @ -20°C | 0.15 kW |
| Pump Capacity Flow Rate | 22-26 L/min |
| Pump Capacity Flow Pressure | 5.8-10.2 psi |
| Pump Capacity Flow Suction | 2.9-5.8 psi |
| Bath Opening / Bath Depth | 6.3" W x 1.2" L / 5.5" D |
| Pump Connections | M16x1 |
| Barbed Fittings Diameter | 8 mm ID / 12 mm OD |
| Filling Volume | 3.5 Liters |
| External Pt100 Sensor Connection | Integrated |
| Digital Interfaces | RS232, RS485 |
| Ambient temperature | 5 to 40 °C |
| Dimensions | 9.4" W x 18.1" L x 15.7" H |
| Weight | 79 lbs |
| Classification According to DIN12876-1 | Classification III (FL) |
| Included with each unit | 2 each barbed fittings for tubing 8 and 12 mm inner dia. (pump connections M16x1 female). |
| Cooling of Compressor | Air |
| Power Requirements | 115V / 60Hz / 14A |
Documentation