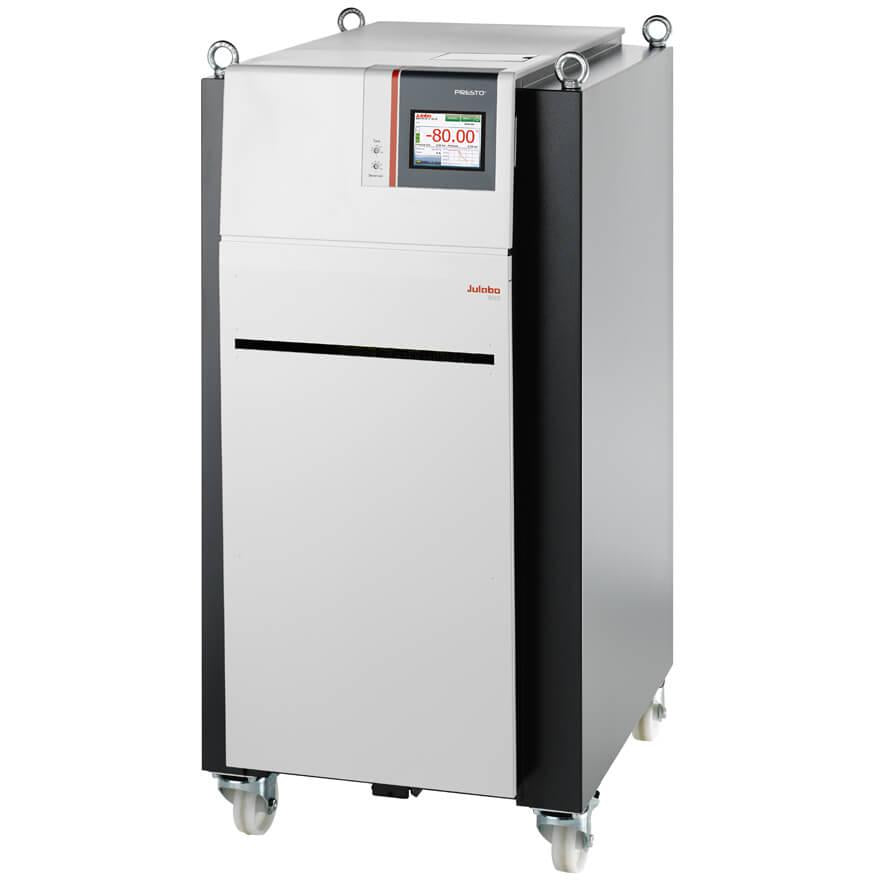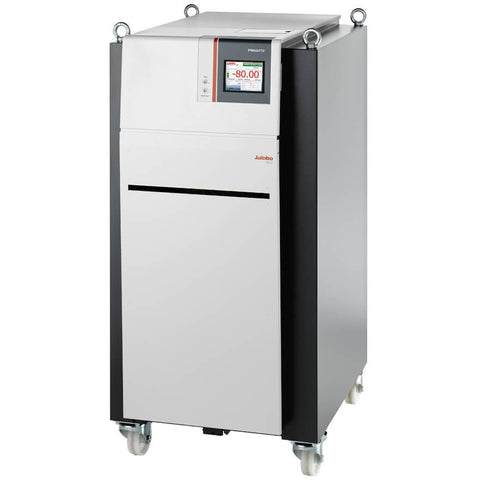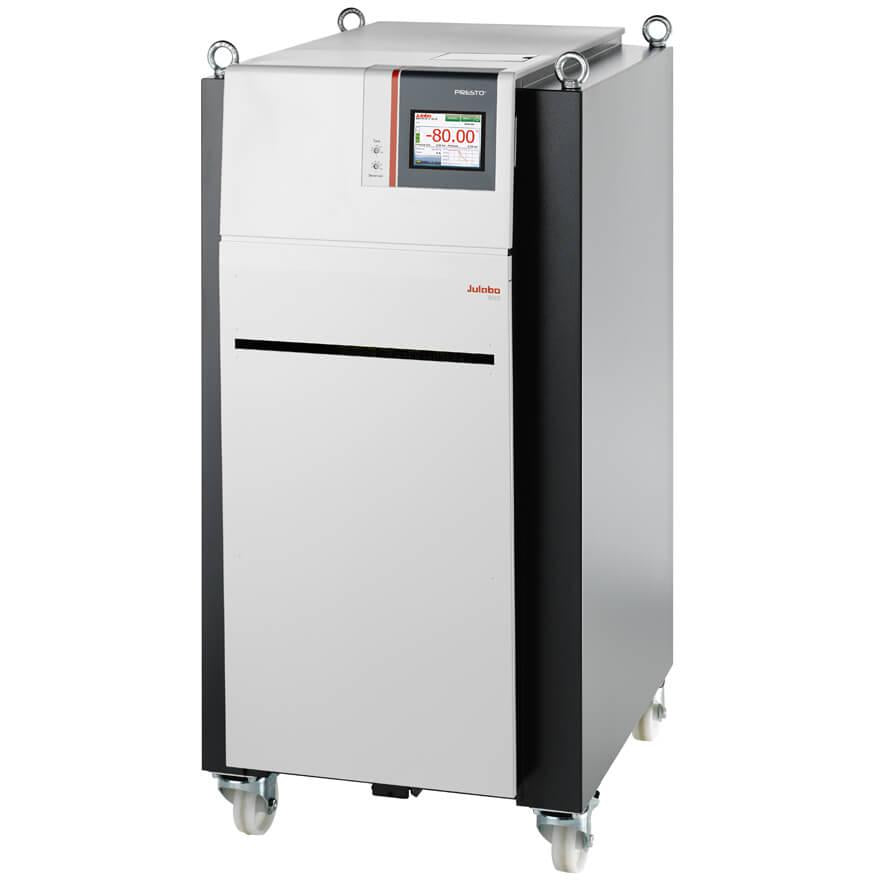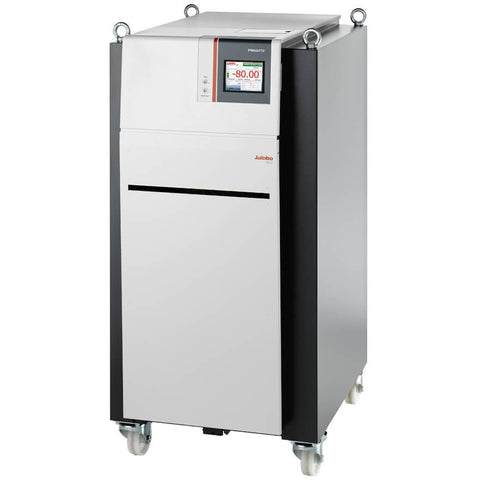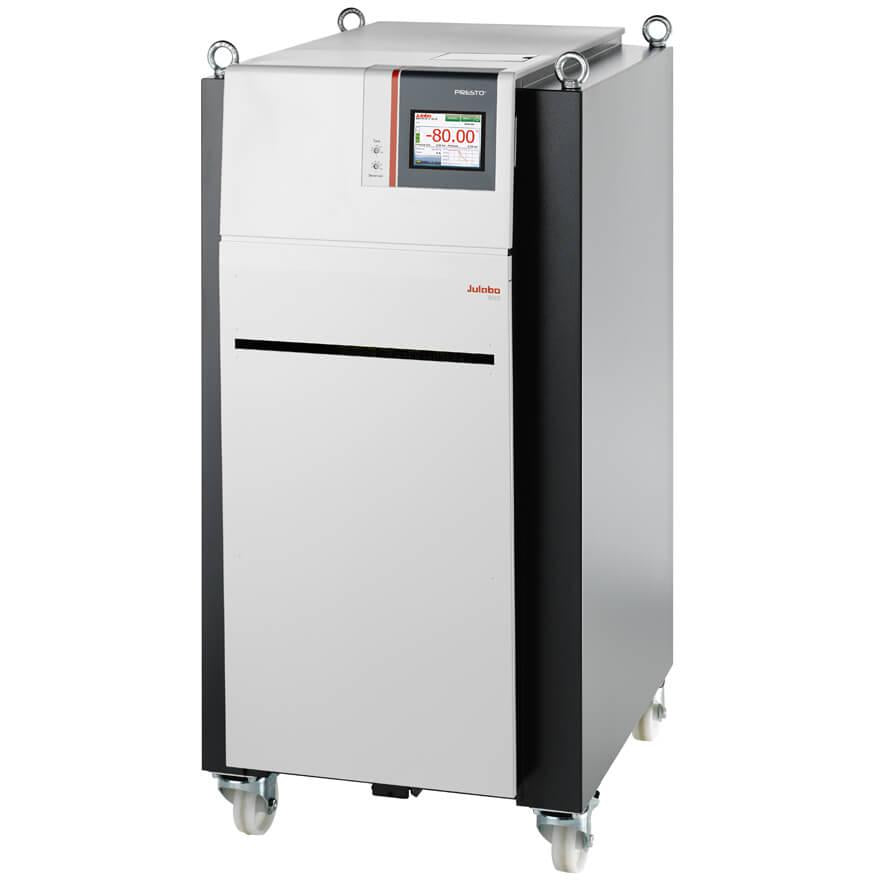 Julabo PRESTO W85/W85t Refrigerated Heating Recirculators, -85 to 250°C
| Image | SKU | Description | Filling Volume | Temperature Range | Temperature Stability | Electrical | Quantity | Price | Add to Cart |
| --- | --- | --- | --- | --- | --- | --- | --- | --- | --- |
| | 9421852.16 | PRESTO W85 | 9.5 L | -85 to 250 °C | ±0.05 to ±0.1 °C | 3 x 208V / 60Hz / 30A - without plug | 1 Each | $86,621 | |
| | 9421852.16.T | PRESTO W85t | 9.5 L | -85 to 250 °C | ±0.05 to ±0.1 °C | 3 x 208V / 60Hz / 52A - without plug | 1 Each | $93,820 | |
Description
Temperature Control System / Process System
Reactor temperature control, tests for all kinds of substances or temperature simulation – the PRESTO are made for highly precise temperature control and rapid temperature changes. Highly efficient components allow extremely fast compensation of exothermic and endothermic reactions. Lab users benefit from high flow rates, constant pressure, and a controlled build-up of pump pressure. Permanent internal monitoring and self-lubricating pumps contribute to the PRESTO's long service life. The integrated 5.7" industrial touch screen displays all important information clearly and concisely enhancing ease of use considerably.
Your advantages
For highly precise, external temperature applications
Rapid heating and cooling
Wide working temperature ranges without changing fluids
Highest performance with small footprint
Space-saving design optimizes space utilization in your lab
5.7" industrial color TFT touch screen
USB (Host und Device)
Ethernet
SD-Card slot
RS232
Modbus
RS485 (Accessory)
Profibus DP (Accessory)
Stand-by input
Water Cooled
Specifications
Part Number
9421852
9421852.T
Model Series
PRESTO
Category
Temperature Control
Working Temperature Range
-85 to 250°C
Temperature Control
ICC
Temperature Stability
±0.05 to ±0.1°C
Setting / Display Resolution
0.01°C
Integrated Programmer
8x60 steps
Temperature Display
TFT Touchscreen
Heating Capacity
5.5kW
12.5kW
Cooling Capacity (Medium:JULABO Thermal | Ethanol)
2.8kW @ 200°C | 2.5kW @ 20°C / 2.4kW @ 0°C / 2.4kW @ -20°C / 2.4kW @ -40°C / 2.2kW @ -60°C / 0.4kW @ -80°C
Pump Capacity Flow Rate
35 to 80 l/min
Pump Capacity Flow Pressure
0.48 to 3 bar
Pump Capacity Flow Pressure
50 cSt
Pump Connections
M30x1.5
Refrigerant Stage 1
R507
Filling Volume Refrigerant Stage 1
700 g
Global Warming Potential for R507
3985
Carbon Dioxide Equivalent Stage 1
2.79 t
Refrigerant Stage 2
R23
Filling Volume Refrigerant Stage 2
680 g
Global Warming Potential for R23
14800
Carbon Dioxide Equivalent Stage 2
10.064 t
External Pt100 Sensor Connection
Integrated
Digital Interfaces
RS232
SD memory card
USB
Ethernet
Modbus
Alarm-out
Optional: RS485, Profibus
Analog Connection Input / Output
Optional
Ambient Temperature
5 to 40°C
Dimensions W x L x H
61 x 84.5 x 125 cm
Weight
335 kg
Sound Pressure Level (distance 1 m) Max.
69 dBA
Process Volume Min. (active heat exchanger volume) Liters
9.5 L (5 L)
Internal Usable Expansion Vol. (liters)
7 L
Classification According to DIN12876-1
Classification III (FL)
Cooling of Compressor
2-stage Water
Cooling Water Connection
G ¾" male with barbed fittings for tubing ½" lD
Cooling Water Consumption
2 to 6 l/min
Cooling Water Temperature
<30°C
Cooling Water Differential Pressure
0.5 bar
Voltage
3 x 208-230V/60Hz/30A - Without Plug
3 x 208-230V/60Hz/52A - Without Plug
Tip: Counter-cooling your PRESTO with a Recirculating Cooler
If there is no cooling water, the PRESTO W85/W85t can be cooled down with a recirculating cooler with a cooling capacity of 7 kW at a flow temperature of 15°C. The required circulating pump has to ensure a flow rate of 6 l/min at a counter-pressure of 0.5 bar. The recommended minimum tank volume is 30 liters.
Documentation