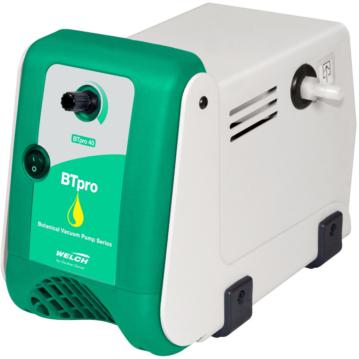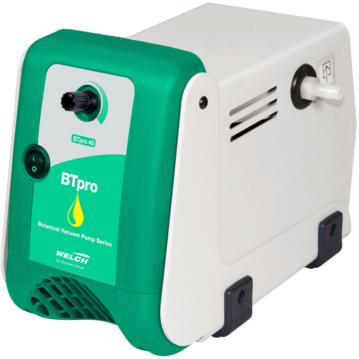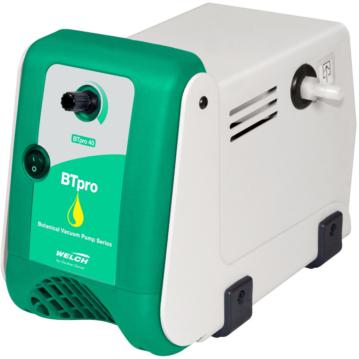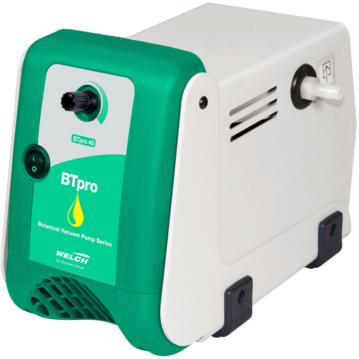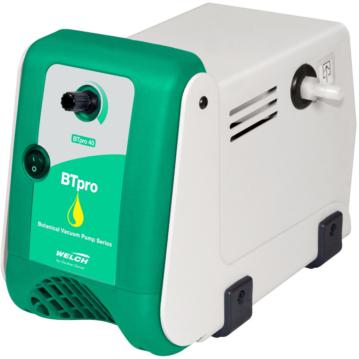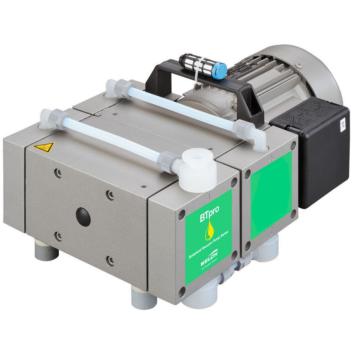 Welch® BTPro Chemical Duty Diaphragm Pumps
Image
SKU
Description
Maximum Vacuum
Free Air Displacement
Ultimate Pressure
Compatible Tubing
Electrical
Quantity
Price
Add to Cart

7010-01

BTPro40 Chemical Duty Diaphragm Pump
29.3 in Hg
1.4 cfm (40 L/min)
15 Torr
3/8 in
115V, 60Hz, 1Ph, CSA Certified
1 Each

$1,805

$1,710

7020-01

BTPro70 Chemical Duty Diaphragm Pump
29.3 in Hg
2.5 cfm (70 L/min)
15 Torr
3/8 in
115V, 60Hz, 1Ph, CSA Certified
1 Each

$3,350

$3,173

7030-01

BTPro100 Chemical Duty Diaphragm Pump
29.7 in Hg
3.5 cfm (100 L/min)
6 Torr
3/8 in or NW16
115V, 60Hz, 1Ph, cUL Certified
1 Each

$4,705

$4,457

7040-01

BTPro170 Chemical Duty Diaphragm Pump
29.7 in Hg
6 cfm (170 L/min)
6 Torr
3/8 in or NW16
115V, 60Hz, 1Ph, cUL Certified
1 Each

$5,240

$4,964
Description
Clean operation (oil free), low cost of ownership, highest reliability – these are just a few benefits that customers can appreciate when they use a diaphragm pump for laboratory or industrial applications. With a broad range of diaphragm pumps – ultimate vacuum from 75 to 1 mbar and peak flow rates up to 138 l/min – Welch offers specific pump families and models for a variety of uses.
Diaphragm pumps work completely without oil which has several advantages for the user:
Less maintenance compared to other technologies saves time and money.
Dry vacuum allows cleaner workplace and environment.
Uncontaminated pumping of gases results in cleaner samples and no risk of oil back-streaming.
Specifications
Model Number
BTPro40
BTPro70
BTPro100
Motor Power, HP (kW) at 60 Hz
1/5 (0.15)
1/5 (0.15)
0.5 (0.39)
0.6 (0.44)
Built-in Adjustable Vacuum
Yes
Yes
No
No
Free Air Displacement
1.4 (40)
2.5 (70)
3.5 (100)
6.0 (170)
Free Air Displacement
1.4 (40)
2.5 (70)
3.5 (100)
6.0 (170)
Ultimate Pressure
15
15
6
6
Tubing Needed, I.D. in.
3/8" Hose
3/8" Hose
NW16 or 3/8" ID Hose
NW16 or 3/8" ID Hose
Diaphragm Material
PTFE
PTFE
PTFE
PTFE
Gas Ballast
No
No
Yes
Yes
Agency (National Recognized Lab)
CSA
CSA
cUL
cUL
Dimensions, LxWxH, mm
310x180x220
350x170x220
230x280x180
530x280x310
Weight
15 lbs
21.3 lbs
40.3 lbs
72.3 lbs
Documentation