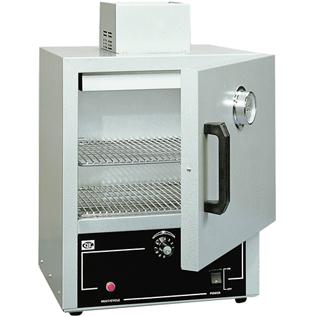 SKU
Description
Capacity
Temperature Range
Electrical
Quantity
Price
Add to Cart

10AF

Analog Forced Air Oven
0.6 cubic feet
Ambient to 450 °F
120 V, 6.6 A, 800 W
1 Each

$945

$714

20AF

Analog Forced Air Oven
1.14 cubic feet
Ambient to 450 °F
120 V, 8.8 A, 1050 W
1 Each

$1,122

$916

30AF

Analog Forced Air Oven
1.83 cubic feet
Ambient to 450 °F
120 V, 12.5 A, 1500 W
1 Each

$1,297

$1,186

40AF

Analog Forced Air Oven
2.86 cubic feet
Ambient to 450 °F
120 V, 12.5 A, 1500 W
1 Each

$1,465

$1,461
Description
Features
Durable double-wall construction
Scratch-resistant hammer finish
Corrosion-resistant aluminized interiors
Proven realiability
Full 18-month factory warranty
Advanced Design
Cabinets are as attractive as they are durable. Exteriors are painted light gray and have a hard, scratch-resistant hammer finish. Doors open with high-impact thermoplastic handles. Cabinets have heavy steel double-wall construction. Work space is insulated from the outer cabinet with one inch of high-desnity mineral wool, and interiors are made of corrosion-resistant aluminized steel.
Controls
Ovens have quality UL- and CSA-recognized components. The control panel is equipped with an illuminated ON/OFF rocker switch and a heat-cycle pilot light. Temperature is controlled by automatic hydraulic or a bimetal thermostat. Hydraulic models offer convenient temperature dial markings in both centigrade or Fahrenheit.
Heating Elements
Energy-efficient, low-watt density incoloy sheathed elements are engineered into a compact design for quick run-up and recovery times. Temperature uniformity is greatly improved by a perforated heat shield which absorbs radiant heat and distributes it more evenly.
AF Series
The AF series offers forced air circulation for a uniform distribution of heat across the chamber, which facilitates evaporation. The AF series has a temperature range to 450 °F / 232 °C, are competitively priced, and offer exceptional value and reliability.
Specifications
| Model | 10AF | 20AF | 30AF | 40AF |
| --- | --- | --- | --- | --- |
| Interior Dimensions (in) | 12x8.25x10 | 13x11x13 | 18x14.2x12 | 18x19.8x14 |
| Interior Dimensions (cm) | 30.5x21x25.4 | 33x28x33 | 45.7x36x30.5 | 45.7x50.3x35.6 |
| Exterior Dimensions (in) | 14x20.5X12.3 | 15x25x15.3 | 20x29x14.3 | 20x35X16.3 |
| Exterior Dimensions (cm) | 35.6x52x31.2 | 38x63.5x38.9 | 50.8x73.7x36.2 | 50.8x89x41.4 |
| Capacity (cubic ft) | 0.6 | 1.14 | 1.83 | 2.86 |
| Capacity (liters) | 17 | 32.3 | 51.8 | 81 |
| Temperature Maximum (°F) | 450 | 450 | 450 | 450 |
| Temperature Maximum (°C) | 232 | 232 | 232 | 232 |
| Max Shelves per Unit | 8 | 11 | 14 | 20 |
| Max Pounds per Shelf | 35 | 35 | 35 | 35 |
| Electrical | 120V, 6.6A, 800W | 120V, 8.8A, 1050W | 120V, 12.5A, 1500W | 120V, 12.5A, 1500W |
| Plug Type | 5-15P | 5-15P | 5-15P | 5-15P |
| Unit Weight | 37.2 | 58.7 | 64.2 | 80.8 |
| Shipping Weight | 50.4 | 65.7 | 84.2 | 98.5 |
| Temperature Stability @ 150°C | +/- 3° C | +/- 3° C | +/- 3° C | +/- 3° C |
| Temperature Stability @ 300°F | +/- 6° F | +/- 6° F | +/- 6° F | +/- 6° F |
| Time to 100°C from Ambient | 7.5 minutes | 9 minutes | 7 minutes | 9 minutes |
| Time to Max from Ambient | 31 minutes | 37 minutes | 22 minutes | 39 minutes |