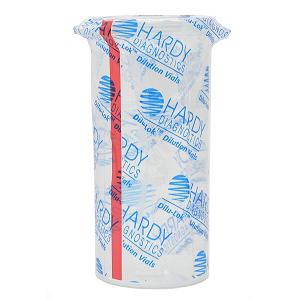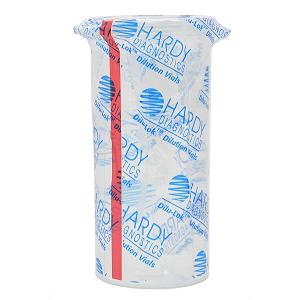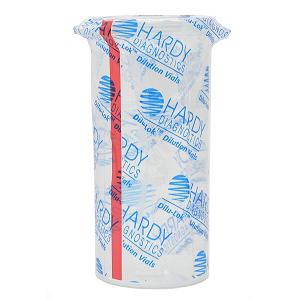 Butterfield's Phosphate Buffer, Dilu-Lok II™
SKU
Description
Quantity
Price
Add to Cart

D590

Butterfield Buffer, 90 mL fill, 145 mL polypropylene bottle with hinged cap
50 Pack

$141.77

$107

D599

Butterfield Buffer, 99 mL fill, 145 mL polypropylene bottle with hinged cap
50 Pack

$139.55

$107
Description
Butterfield's Phosphate Buffer is used as a diluent for the preparation of dilutions in plate count and other laboratory processes.
The Dilu-Lok™ eliminates the time and money spent on preparing your own dilution vials! Our pre-filled dilution vial is designed especially for the food, dairy, pharmaceutical, and water industries. The vials are filled to 25ml, 90ml, or 99ml with a variety of buffering and enrichment solutions. Each lot is meticulously tested for pH, tested for organisms, fill volume, and toxicity.
Dilu-Lok™ Features:
Heavy duty - Vials are made of sturdy polypropylene with a leak-proof seal that holds up even during air transport.
Large Opening - A wide 45mm opening accommodates most sample sizes. Each vial is clearly marked with a 90ml and 99ml fill line.
One-Handed - Flip-top lid allows for easy one-handed opening and closing to make pipeting easier. Saves unnecessary motion! No awkward screw caps or plastic strips to tear off.
Leak-Proof - Re-engineered for an improved seal. Easy-to-remove, perforated, shrink wrap ensures product integrity.
Optically clear - Vials are made of clarified polypropylene for clear viewing.