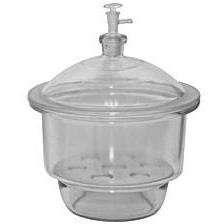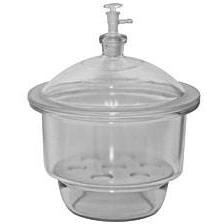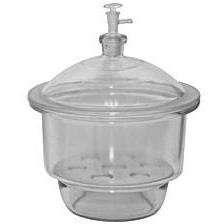 Desiccators, Vacuum, Borosilicate Glass
SKU
Description
Volume
Flange OD
Height
Quantity
Price
Add to Cart

B135415

Desiccators, Vacuum, Borosilicate Glass
1500 mL
150 mm
110 mm
1 Each

$106.58

$75

B135418

Desiccators, Vacuum, Borosilicate Glass
3000 mL
180 mm
145 mm
1 Each

$136.50

$95

B135421

Desiccators, Vacuum, Borosilicate Glass
4500 mL
210 mm
170 mm
1 Each

$191.63

$134

B135424

Desiccators, Vacuum, Borosilicate Glass
7000 mL
240 mm
195 mm
1 Each

$295.58

$207

B135430

Desiccators, Vacuum, Borosilicate Glass
13000 mL
300 mm
245 mm
1 Each

$446.25

$312
Description
Our high quality borosilicate vacuum desiccator is great for storing materials that are sensitive to humidity.
High quality borosilicate glass
Ground glass joint
Features vacuum port
The vacuum desiccator is designed for operation under vacuum pressure and is great for desiccation of your samples or for storage of humidity sensitive materials.
Certifications: Meets ASTM standards.
Supplied with inner ceramic desiccator plate and glass lid.