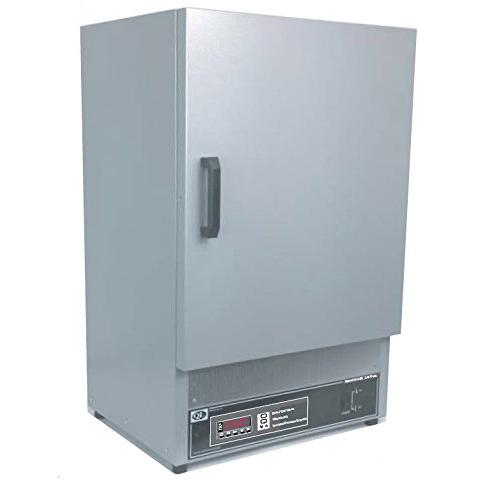 Digital Gravity Convection Ovens
SKU
Description
Capacity
Temperature Range
Interior Dimensions
Electrical
Quantity
Price
Add to Cart

10GCE

Digital Gravity Convection Oven
0.7 cubic feet
Ambient + 25 to 450 °F
12.0 x 10.0 x 10. in
115 V, 5.2 A, 600 W
1 Each

$975

$792

20GCE

Digital Gravity Convection Oven
1.27 cubic feet
Ambient + 25 to 450 °F
13.0 x 13.0 x 13.0 in
115 V, 6.3 A, 750 W
1 Each

$1,086

$950

30GCE

Digital Gravity Convection Oven
2.0 cubic feet
Ambient + 25 to 450 °F
18.0 x 15.6 x 12.0 in
115 V, 10.5 A, 1200 W
1 Each

$1,224

$1,194

40GCE

Digital Gravity Convection Oven
3.0 cubic feet
Ambient + 25 to 450 °F
18.0 x 21.8 x 14.0 in
115 V, 12.5 A, 1500 W
1 Each
$1,409
Description
Features
Digital microprocessor control
Durable double-wall construction
Scratch-resistant hammer finish
Corrosion-resistant aluminized interiors
Proven realiability
Full 18-month factory warranty
Advanced Design
Cabinets are as attractive as they are durable. Exteriors are painted light gray and have a hard, scratch-resistant hammer finish. Doors open with high-impact thermoplastic handles. Cabinets have heavy steel double-wall construction. Work space is insulated from the outer cabinet with one inch of high-desnity mineral wool, and interiors are made of corrosion-resistant aluminized steel.
Controls
The digital control combines the features of the analog model but offers the ease of temperature setting and the stability of a full PID microprocessor that accurately maintains settings within +/- 0.5 °C (1 °F), even in varying ambient or power supply conditions. This feature helps to confirm stability or indicate any control malfunction or power loss thorougout a process period. The digital controller features large LEDs that continuously display set temperature and process temperature, as well asa setting lock mode that provides protection against accidental or inadvertent adjustment.
Heating Elements
Energy-efficient, low-watt density incoloy sheathed elements are engineered into a compact design for quick run-up and recovery times. Temperature uniformity is greatly improved by a perforated heat shield which absorbs radiant heat and distributes it more evenly throughout the product chamber.
GCE Series
The GCE series gravity convection ovens are design to meet the laboratory needs of industry, research organizations, and schools. Well-crafted and versatile, they are used for part drying, baking, curing, sterilizing, evaporating, heat treating, annealing, and testing. The GCE series has a temperature range to 450 °F / 232 °C, are competitively priced, and offer exceptional value and reliability.
Specifications
| Model | 10GCE | 20GCE | 30GCE | 40GCE |
| --- | --- | --- | --- | --- |
| Interior Dimensions (in) | 12x10x10 | 13x13x13 | 18x15.6x12 | 18x21.8x14 |
| Interior Dimensions (cm) | 30.5x25.4x25.4 | 33x33x33 | 45.7x39.6x30.5 | 45.7x55.4x35.6 |
| Exterior Dimensions (in) | 14x17.5X12.3 | 15x21.5x15.3 | 20x25.5x14.3 | 20x31.5X16.3 |
| Exterior Dimensions (cm) | 35.6x44.5x31.2 | 38x54.6x38.9 | 50.8x64.8x36.2 | 50.8x80x41.4 |
| Capacity (cubic ft) | 0.7 | 1.27 | 2 | 3 |
| Capacity (liters) | 19.8 | 36 | 56.6 | 85 |
| Temperature Range (° F) | Ambient +25 °F to 450 °F | Ambient +25 °F to 450 °F | Ambient +25 °F to 450 °F | Ambient +25 °F to 450 °F |
| Temperature Range (° C) | Ambient +25 °F to 232 °C | Ambient +25 °F to 232 °C | Ambient +25 °F to 232 °C | Ambient +25 °F to 232 °C |
| Max Shelves per Unit | 10 | 13 | 16 | 22 |
| Max Pounds per Shelf | 35 | 35 | 35 | 35 |
| Electrical | 115V, 5.2A, 600W | 115V, 6.3A, 750W | 115V, 10.5A, 1200W | 115V, 12.5A, 1500W |
| Plug Type | 5-15P | 5-15P | 5-15P | 5-15P |
| Unit Weight (lbs) | 31.4 | 43.5 | 57.2 | 72.5 |
| Shipping Weight (lbs) | 42.6 | 57 | 76.2 | 91.5 |
| Control Stability | 0.5 °C / 1.0 °F | 0.5 °C / 1.0 °F | 0.5 °C / 1.0 °F | 0.5 °C / 1.0 °F |
| Time to Max from Ambient | 43 minutes | 52 minutes | 37 minutes | 42 minutes |