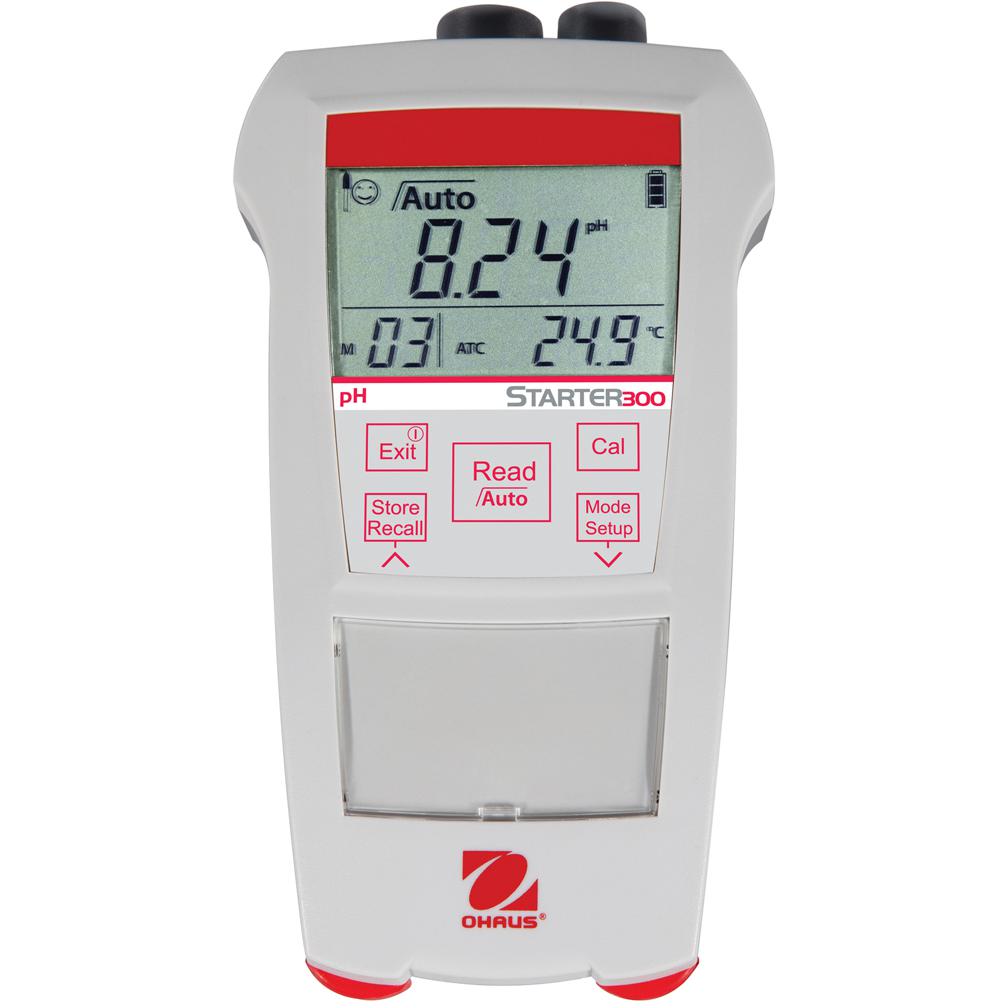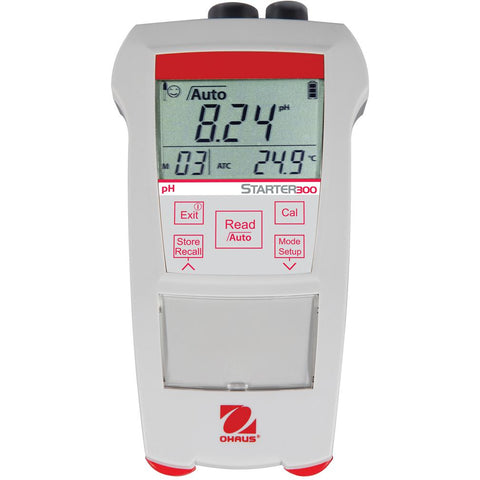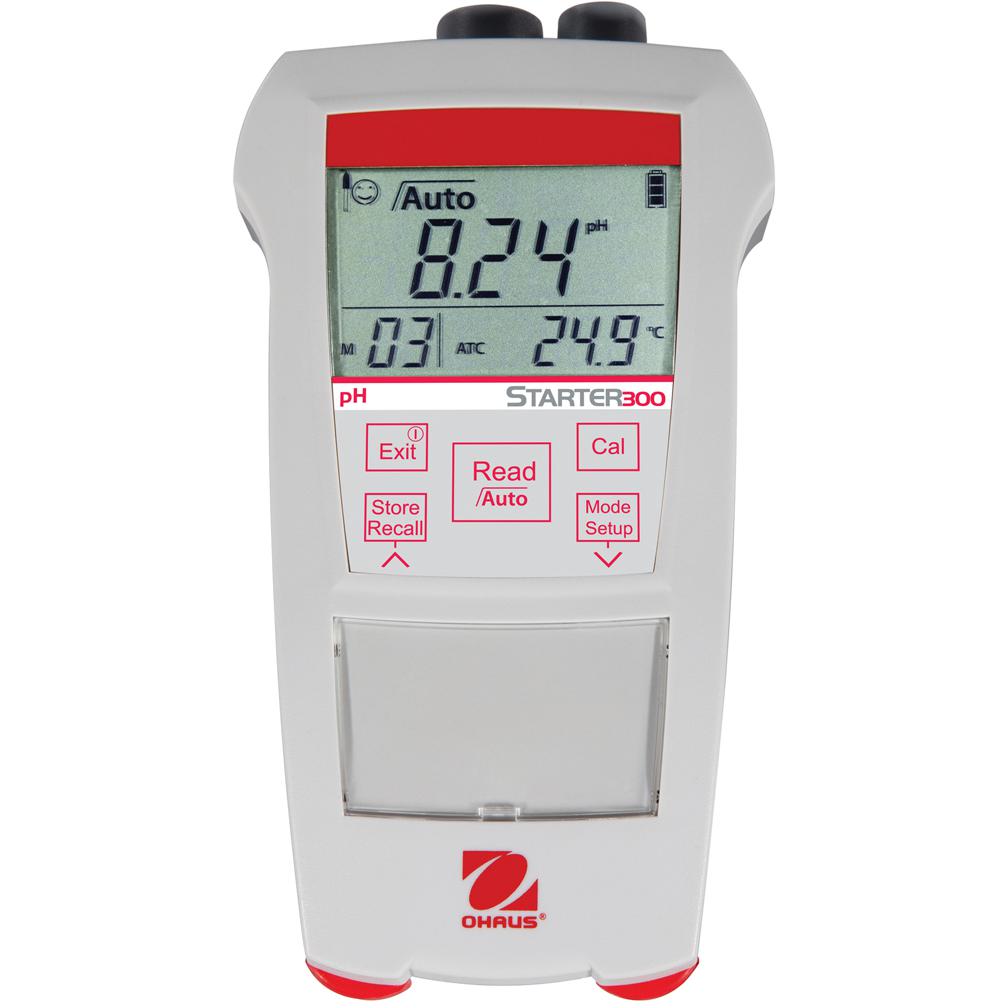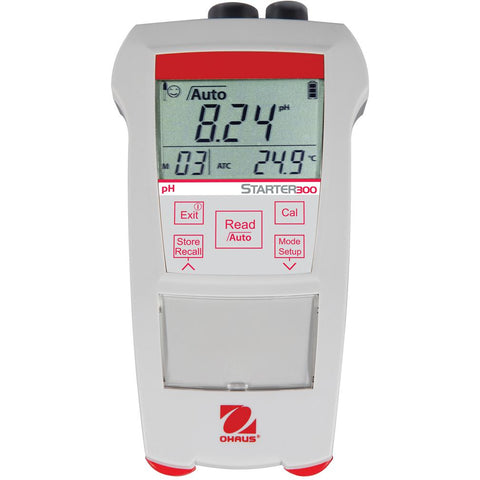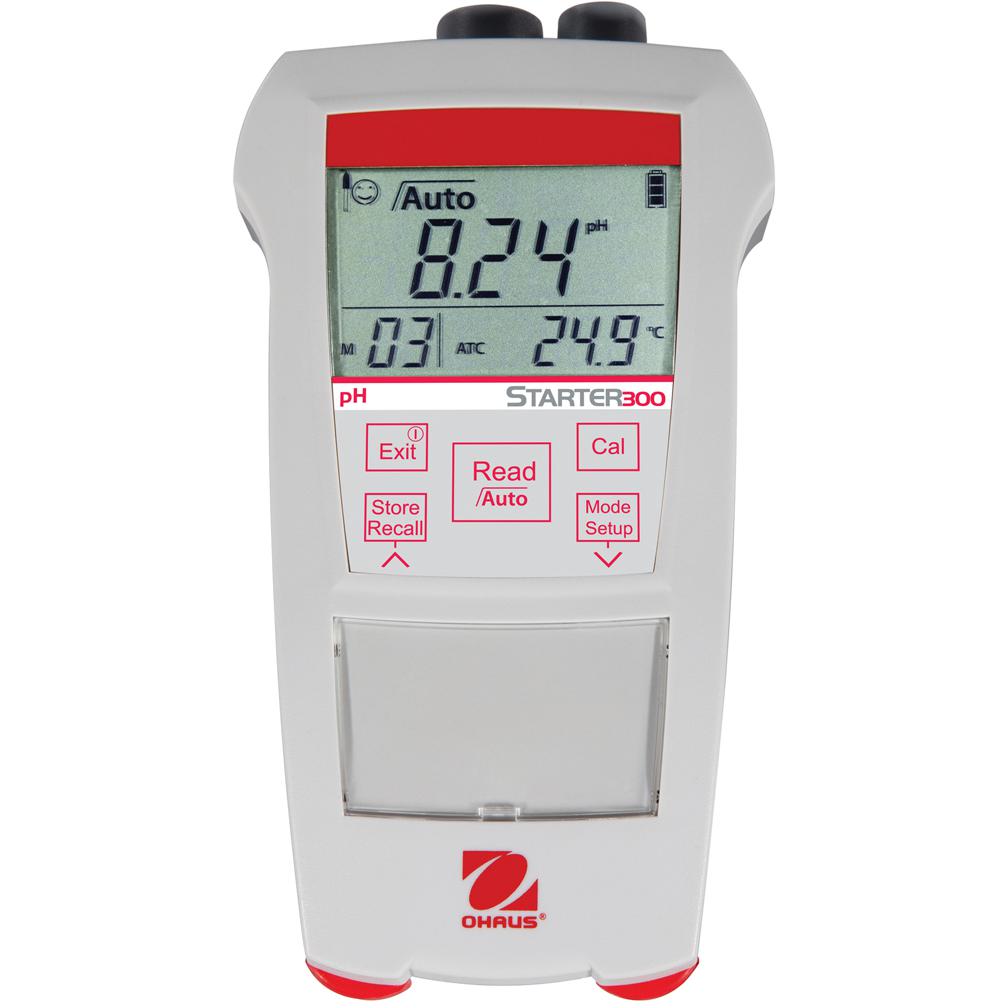 Ohaus® Starter 300 Portable pH Meters
Image
SKU
Description
Included
Measurement Resolution
Measurement Accuracy
Measurement Range
Quantity
Price
Add to Cart

30219114

Ohaus® ST300-G Portable pH Meter
ST320 electrode, Carry case
0.01 pH; 1 mV; 0.1 ° C
± 0.01 pH; ± 1 mV; ± 0.5 ° C
0.00 to 14.00 pH; -1999 to 1999 mV; 0 to 100 ° C
1 Each

$550

$495

83033962

Ohaus® ST300-B Portable pH Meter
-
0.01 pH; 1 mV; 0.1 ° C
± 0.01 pH; ± 1 mV; ± 0.5 ° C
0.00 to 14.00 pH; -1999 to 1999 mV; 0 to 100 ° C
1 Each

$393

$353

83033961

Ohaus® ST300 Portable pH Meter
ST320 electrode
0.01 pH; 1 mV; 0.1 ° C
± 0.01 pH; ± 1 mV; ± 0.5 ° C
0.00 to 14.00 pH; -1999 to 1999 mV; 0 to 100 ° C
1 Each

$525

$472
Description
After more than a century of perfecting the art of measurement through our durable weighing products, OHAUS precision is now available in the form of a portable pH meter. This portable meter offers convenience, reliability and durability in one compact design.
Automatic and manual temperature compensation ensures accurate readings while a 30 measurement library stores data for future reference.
The auto buffer recognition stores calibration data and helps to avoid errors during the calibration process.
With a meter stand, wrist strap for secure field use and IP54 housing, Starter 300 is durable and prepared for versatile use.
Applications
pH, oxidation-reduction potential (ORP) measurement
Display
Liquid crystal display (LCD)
Operation
4 AAA batteries (included)
Communication
N/A
Construction
ABS housing, wrist strap
Design Features
Automatic and manual temperature compensation, auto buffer recognition, calibration icon
Specifications
| | | | |
| --- | --- | --- | --- |
| Model | ST300 | ST300-B | ST300-G |
| Part # | 83033961 | 83033962 | 30219114 |
| Measurement Range | 0.00 - 14.00 pH;  -1999 - 1999 mV;  0 - 100 °C | 0.00 - 14.00 pH;  -1999 - 1999 mV;  0 - 100 °C | 0.00 - 14.00 pH;  -1999 - 1999 mV;  0 - 100 °C |
| Accuracy | ±0.01 pH;  ±1 mV;  ±0.5 °C | ±0.01 pH;  ±1 mV;  ±0.5 °C | ±0.01 pH;  ±1 mV;  ±0.5 °C |
| Measurement Resolution | 0.01 pH;  1 mV;  0.1 °C | 0.01 pH;  1 mV;  0.1 °C | 0.01 pH;  1 mV;  0.1 °C |
| Display | LCD | LCD | LCD |
| Electrode | ST320 (Included) | ST320 (Available as an accessory) | ST320 (Included) |
| Battery Life | 500 Hours with Disposable Batteries | 500 Hours with Disposable Batteries | 500 Hours with Disposable Batteries |
| Calibration | 3 Point | 3 Point | 3 Point |
| Dimensions (HxLxW) | 35 mm x 170 mm x 90 mm | 35 mm x 170 mm x 90 mm | 33 mm x 170 mm x 90 mm |
| In-use cover | No | No | No |
| Net Weight | 0.16 kg | 0.16 kg | 0.16 kg |
| Parameter | pH / ORP | pH / ORP | pH / ORP |
| pH accuracy (±) | 0.01 | 0.01 | 0.01 |
| pH measuring range | 0 - 14 | 0 - 14 | 0 - 14 |
| pH resolution | 0.01 | 0.01 | 0.01 |
| Power | 4 AAA (LR03) Batteries (Included) | 4 AAA (LR03) Batteries (Included) | 4 AAA (LR03) Batteries (Included) |
| Temperature Compensation | Yes | Yes | Automatic |
| Temperature resolution | 0.1 °C | 0.1 °C | 0.1 °C |
| Temperature Sensor | 30 KΩ NTC | 30 KΩ NTC | 30 KΩ NTC |
| Working Environment | 41°F - 104°F, 80%RH, non-condensing (5°C - 40°C, 80%RH, non-condensing) | 41°F - 104°F, 80%RH, non-condensing (5°C - 40°C, 80%RH, non-condensing) | 41°F - 104°F, 80%RH, non-condensing (5°C - 40°C, 80%RH, non-condensing) |
Documentation