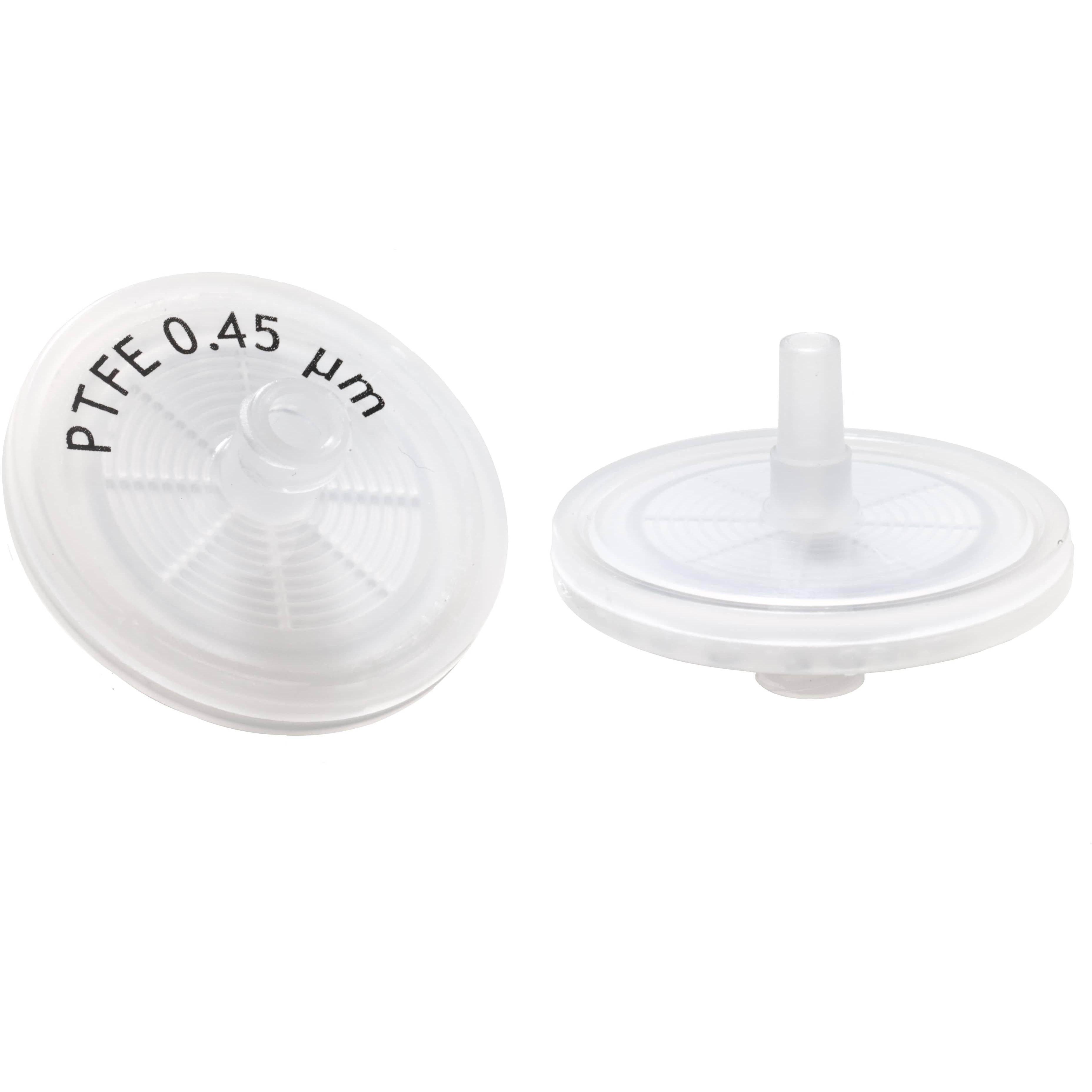 SKU
Description
Sterility
Diameter
Pore Size
Quantity
Price
Add to Cart

IWT-ES10017

PTFE Syringe Filters, Hydrophobic
Non-Sterile
13 mm
0.22 μm
100 Pack

$184.61

$112

IWT-ES10018

PTFE Syringe Filters, Hydrophobic
Non-Sterile
13 mm
0.45 μm
100 Pack

$184.61

$112

IWT-ES10019

PTFE Syringe Filters, Hydrophobic
Non-Sterile
25 mm
0.22 μm
100 Pack

$181.89

$146

IWT-ES10020

PTFE Syringe Filters, Hydrophobic
Non-Sterile
25 mm
0.45 μm
100 Pack

$181.89

$146

IWT-ES10024

PTFE Syringe Filters, Hydrophobic
Sterile
13 mm
0.22 μm
100 Pack

$258.18

$205

IWT-ES10025

PTFE Syringe Filters, Hydrophobic
Sterile
13 mm
0.45 μm
100 Pack

$253.26

$201

IWT-ES10026

PTFE Syringe Filters, Hydrophobic
Sterile
25 mm
0.22 μm
100 Pack

$297.95

$238

IWT-ES10027

PTFE Syringe Filters, Hydrophobic
Sterile
25 mm
0.45 μm
100 Pack

$297.95

$238

IWT-ES10034

PTFE Syringe Filters, Hydrophilic
Non-Sterile
13 mm
0.22 μm
100 Pack

$204.64

$153

IWT-ES10035

PTFE Syringe Filters, Hydrophilic
Non-Sterile
13 mm
0.45 μm
100 Pack

$204.64

$153

IWT-ES10036

PTFE Syringe Filters, Hydrophilic
Non-Sterile
25 mm
0.22 μm
100 Pack

$293.93

$215

IWT-ES10037

PTFE Syringe Filters, Hydrophilic
Non-Sterile
25 mm
0.45 μm
100 Pack

$293.93

$215

IWT-ES10039

PTFE Syringe Filters, Hydrophilic
Sterile
13 mm
0.22 μm
100 Pack

$325.42

$238

IWT-ES10040

PTFE Syringe Filters, Hydrophilic
Sterile
13 mm
0.45 μm
100 Pack

$325.42

$238

IWT-ES10041

PTFE Syringe Filters, Hydrophilic
Sterile
25 mm
0.22 μm
100 Pack

$431.37

$315

IWT-ES10042

PTFE Syringe Filters, Hydrophilic
Sterile
25 mm
0.45 μm
100 Pack

$431.37

$315

IWT-ES10193

PTFE Syringe Filters, GF prefilter
Non-Sterile
13 mm
0.22 μm
100 Pack

$280.63

$206

IWT-ES10194

PTFE Syringe Filters, GF prefilter
Non-Sterile
13 mm
0.45 μm
100 Pack

$280.63

$206

IWT-ES10195

PTFE Syringe Filters, GF prefilter
Non-Sterile
25 mm
0.22 μm
100 Pack

$350.66

$255

IWT-ES10196

PTFE Syringe Filters, GF prefilter
Non-Sterile
25 mm
0.45 μm
100 Pack

$350.66

$255

IWT-ES10198

PTFE Syringe Filters, GF prefilter
Sterile
13 mm
0.22 μm
100 Pack

$341.09

$249

IWT-ES10199

PTFE Syringe Filters, GF prefilter
Sterile
13 mm
0.45 μm
100 Pack

$341.09

$249

IWT-ES10200

PTFE Syringe Filters, GF prefilter
Sterile
25 mm
0.22 μm
100 Pack

$447.02

$326

IWT-ES10201

PTFE Syringe Filters, GF prefilter
Sterile
25 mm
0.45 μm
100 Pack

$447.02

$326
Description
Features
Filter insertion in clean room by manual as well as fully automated means.
Molding in place, over molding and support structure molding of fragile media.
Ultrasonic welding of barrel structure for increased leak / burst resistance.
Multi-process mold extensions for inclusion of single or multi-level prefiltration media.
Digital variable print capabilities along arc on barrel face for identification purposes.
Blister packing for EO and gamma sterilization.
Pure virgin PP, verified by HPLC against U/L extractables.
Polytetrafluoroethylene (PTFE) - Hydrophilic or Hydrophobic
PTFE membranes are inherently hydrophobic; they are ideal for the filtration of nonpolar liquids and gases.
Very resistant to solvents as well as acids or bases.
Can be made more hydrophilic by flushing with alcohol, followed by water
Used for filtering and de-gassing chromatography solvents
Permits optimal utilization of small sample volumes
Excellent chemical compatibility for filtering harsh chemicals that destroy other membrane materials
Moisture barrier for venting applications and vacuum pump line protection
Ideal for aerosol sampling
Filter viscous organic based HPLC samples
Glass microfiber prefilter raises absorption capacity and loading
After pre-wetting with alcohol, may be used for fine particle removal of aqueous and mild organic solutions in Ion Chromatography