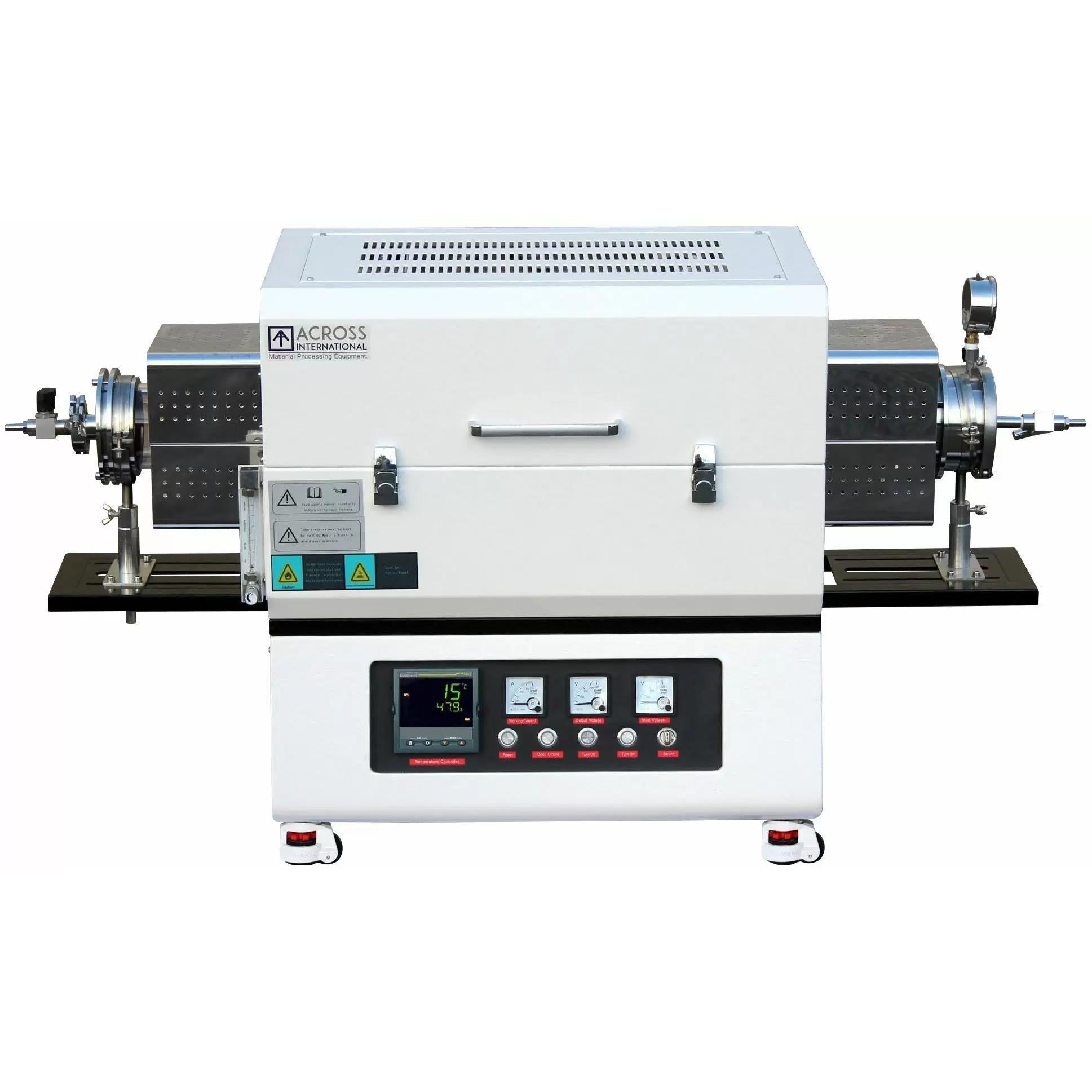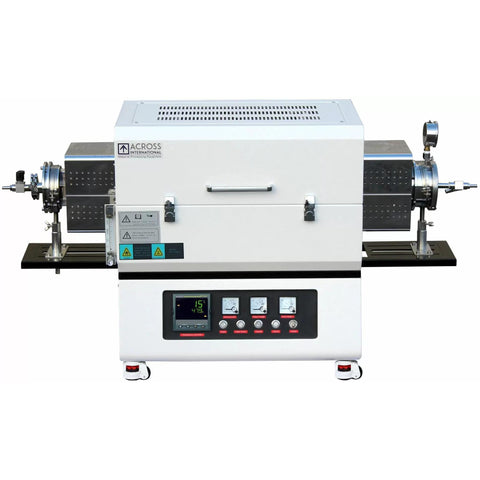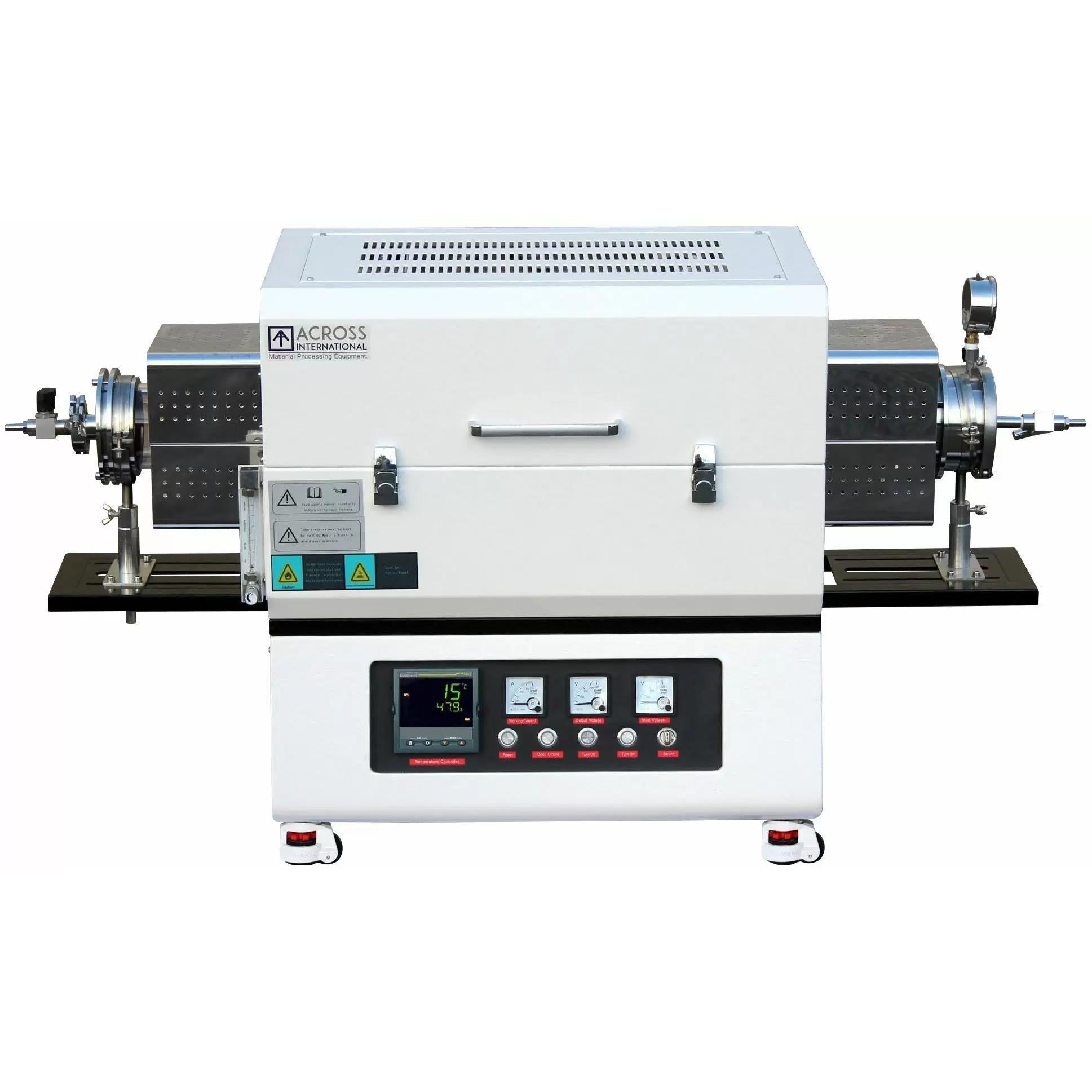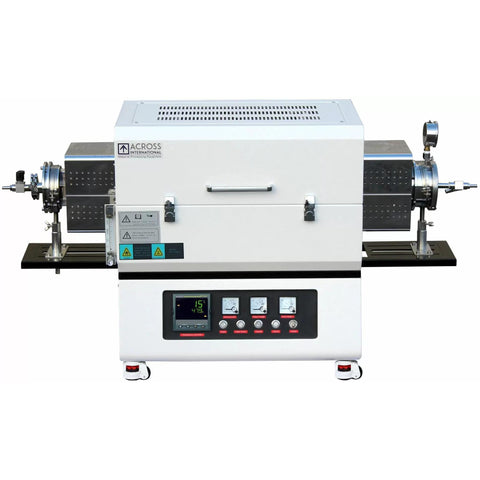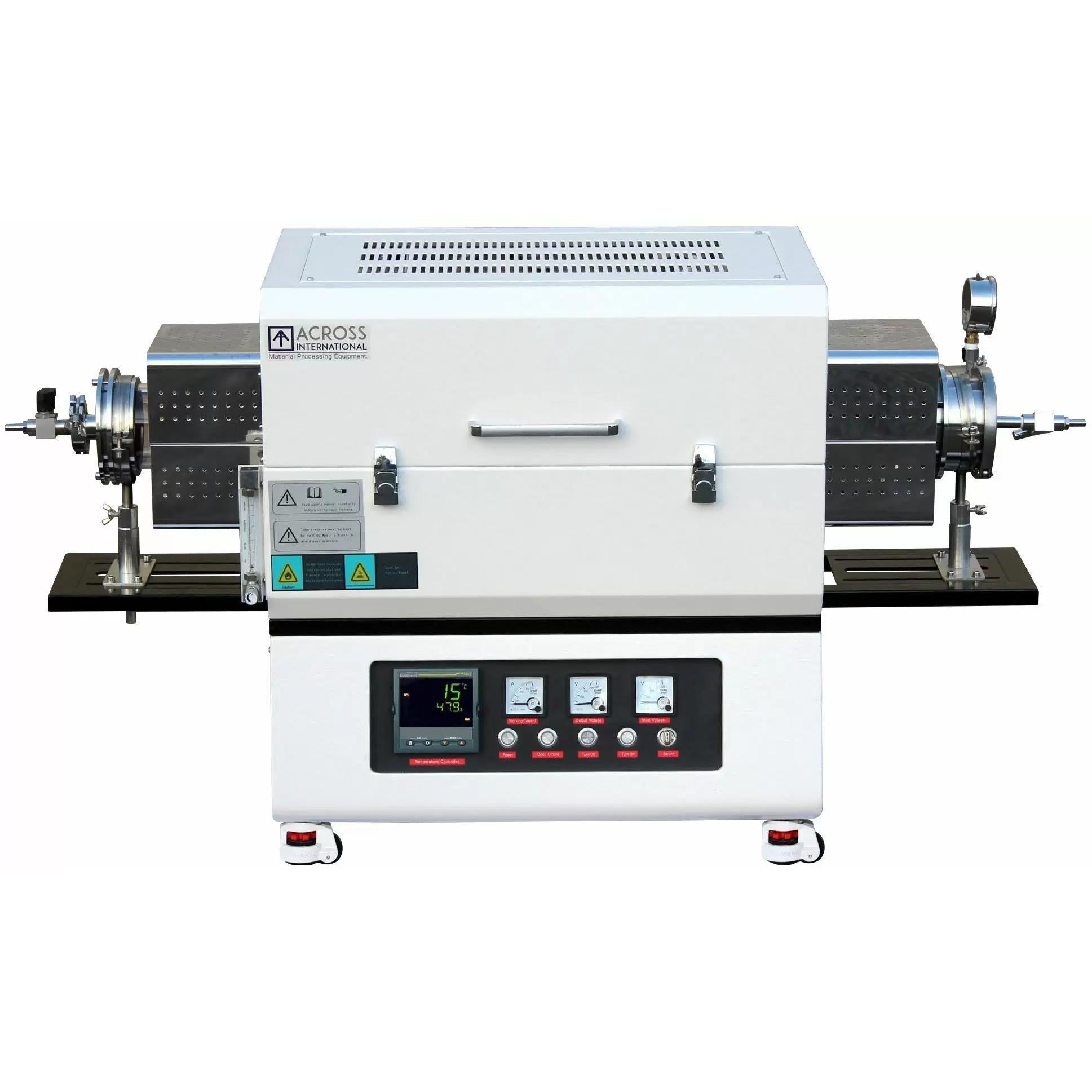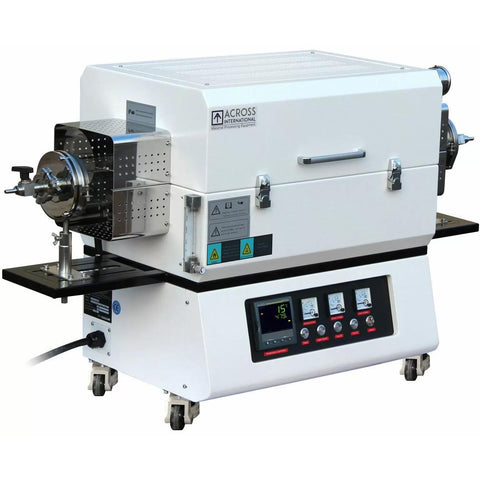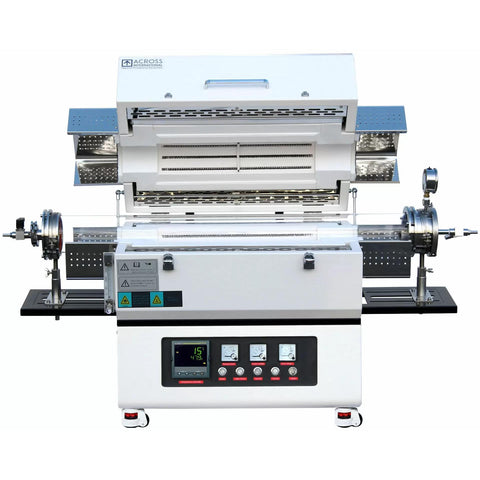 Tube Furnace, Open Top, Quartz Tube, 1 to 3 Zone, 1200°C
Image
SKU
Description
Max Temperature
Heating Element
Zone
Tube OD
Electrical
Quantity
Price
Add to Cart

STF1200.TFM1.60

Tube Furnace, Open Top, Quartz Tube
1200 °C
Kanthal
1-Zone
60 mm
208-240V, 50/60Hz, 1-ph
1 Each

$5,990

$5,690

STF1200.TFM1.60-UL

Tube Furnace, Open Top, Quartz Tube
1200 °C
Kanthal
1-Zone
60 mm
208-240V, 50/60Hz, 1-ph, UL/CSA Certified
1 Each

$6,990

$6,640

STF1200.TFM1.100

Tube Furnace, Open Top, Quartz Tube
1200 °C
Kanthal
1-Zone
100 mm
208-240V, 50/60Hz, 1-ph
1 Each

$6,990

$6,640

STF1200.TFM1.100-UL

Tube Furnace, Open Top, Quartz Tube
1200 °C
Kanthal
1-Zone
100 mm
208-240V, 50/60Hz, 1-ph, UL/CSA Certified
1 Each

$7,990

$7,590

STF1200.TFM1.150

Tube Furnace, Open Top, Quartz Tube
1200 °C
Kanthal
1-Zone
150 mm
208-240V, 50/60Hz, 1-ph
1 Each

$9,490

$9,015

STF1200.TFM1.150-UL

Tube Furnace, Open Top, Quartz Tube
1200 °C
Kanthal
1-Zone
150 mm
208-240V, 50/60Hz, 1-ph, UL/CSA Certified
1 Each

$10,490

$9,965

STF1200.TFM1.200

Tube Furnace, Open Top, Quartz Tube
1200 °C
Kanthal
1-Zone
200 mm
208-240V, 50/60Hz, 1-ph
1 Each

$11,490

$10,915

STF1200.TFM1.200-UL

Tube Furnace, Open Top, Quartz Tube
1200 °C
Kanthal
1-Zone
200 mm
208-240V, 50/60Hz, 1-ph, UL/CSA Certifie4d
1 Each
$12,490

STF1200.TFM1.250

Tube Furnace, Open Top, Quartz Tube
1200 °C
Kanthal
1-Zone
250 mm
208-240V, 50/60Hz, 1-ph
1 Each

$13,490

$12,815

STF1200.TFM1.250-UL

Tube Furnace, Open Top, Quartz Tube
1200 °C
Kanthal
1-Zone
250 mm
208-240V, 50/60Hz, 1-ph, UL/CSA Certified
1 Each

$14,490

$13,765

STF1200.TFM2.60

Tube Furnace, Open Top, Quartz Tube
1200 °C
Kanthal
2-Zone
60 mm
208-240V, 50/60Hz, 1-ph
1 Each

$6,490

$6,165

STF1200.TFM2.60-UL

Tube Furnace, Open Top, Quartz Tube
1200 °C
Kanthal
2-Zone
60 mm
208-240V, 50/60Hz, 1-ph, UL/CSA Certified
1 Each

$8,490

$8,065

STF1200.TFM2.100

Tube Furnace, Open Top, Quartz Tube
1200 °C
Kanthal
2-Zone
100 mm
208-240V, 50/60Hz, 1-ph
1 Each
$7,708

STF1200.TFM2.100-UL

Tube Furnace, Open Top, Quartz Tube
1200 °C
Kanthal
2-Zone
100 mm
208-240V, 50/60Hz, 1-ph, UL/CSA Certified
1 Each

$9,690

$9,590
Description
Ai STF1200 series top-open split chamber tube furnaces feature the famous Kanthal (Sweden) spiral wire coils embedded in Mitsubishi (Japan) high quality grade 1500 alumina fiber insulation. A double walled steel internal housing helps minimize heat loss to exterior surface.
Furnace operation is controlled by Eurotherm (UK) digital controller with built-in digital communication port, allowing the user to connect to a PC for remote control and monitoring of the furnace. You can also save or export test results.
Features
Compact, portable and lightweight design.
Top-open furnace chamber for fast and easy tube access.
Standard package includes set of stainless steel vacuum sealing flanges with valves and pressure meter.
Microprocessor based self-tuning PID control provides optimum thermal process with minimal overshoot.
Multiple atmosphere processes in a single cycle are possible (ex: binder burn out in air and parts sintering under rough vacuum or inert gas environment.)
Built-in ammeter and dual voltmeters for easy monitoring and troubleshooting.
Built-in computer interface.
ETL and CE certified, standard
Safety
Overheat protection shuts down the furnace if temperature is outside of acceptable range (refer to controller's manual) or when the thermocouple is broken or malfunctions.
Power failure protection resumes furnace operation right after the point of failure when power is reestablished.
Warning!
NEVER fill furnace with explosive gases, including Hydrogen, Carbon Monoxide and Methane.
Specifications
| | |
| --- | --- |
| Electrical requirements | 208-240VAC, 50/60 Hz, single phase |
| Tube Material | Quartz |
| Maximum working temperature | 1200°C (2 hours maximum continuous run time |
| Constant working temperature | 1100°C |
| Minimum working temperature | Ambient |
| Constant working temperature under vacuum | 1000°C |
| Rated vacuum pressure | 0.001 Pa / 0.0075 millitorr / 0.00001 mbar |
| Rated positive pressure | 0.02 MPa / 150 torr / 3 psi |
| Heating element type | Kanthal (Sweden) A1 2.0 resistance coil wire |
| Thermo couple type | K |
| Refractory lining | Mitsubishi (Japan) 1500-grade fiber alumina |
| Temperature controller | Eurotherm (UK) digital multi-segment controller |
| Maximum heating rate | < 30°C / min |
| Heating zone length | 16 inches |
| Constant temperature zone length | 10 inches |
| Temperature controller precision | ± 1°C |
| Vacuum sealing flange kit | Stainless steel vacuum sealing flanges with one vacuum gauge, two valves and four thermal ceramic blocks. |
| Gas inlet/outlet | 1/4" hose barb with 1/4" BSPT (British Standard Pipe Thread) |
| Compliance | ETL tested to UL and CSA (Optional), CE (Standard) |
Zone Specifications
| Zone | Tube size (OD x length) | Maximum output |
| --- | --- | --- |
| 1-Zone | 60mm x 1m | 2.5 kW |
| 1-Zone | 100mm x 1m | 3.5 kW |
| 1-Zone | 150mm x 1m | 5 kW |
| 1-Zone | 200mm x 1m | 6 kW |
| 1-Zone | 250mm x 1.2m | 8 kW |
| 2-Zone | 60mm x 1m | 3 kW |
| 2-Zone | 100mm x 1m | 4 kW |
| 2-Zone | 150mm x 1m | 5.5 kW |
| 3-Zone | 60mm x 1300mm | 1.5 kW x 3 |
| 3-Zone | 100mm x 1300mm | 2 kW x 3 |
| 3-Zone | 150mm x 1300mm | 2.5 kW x 3 |