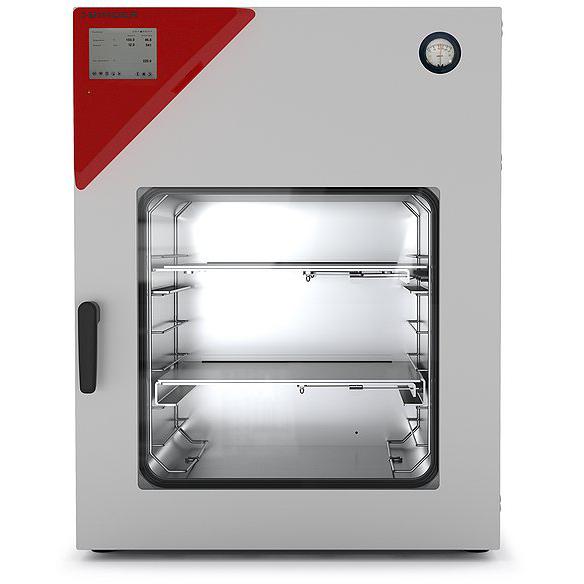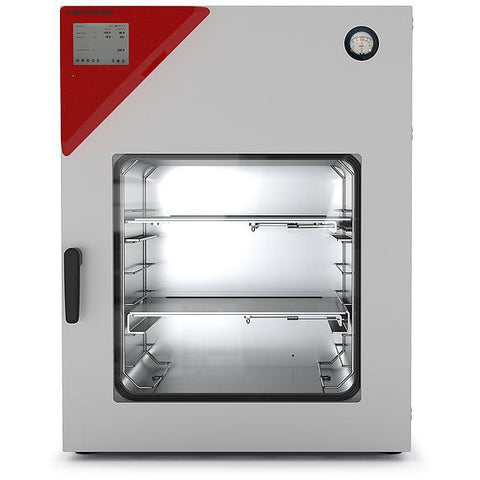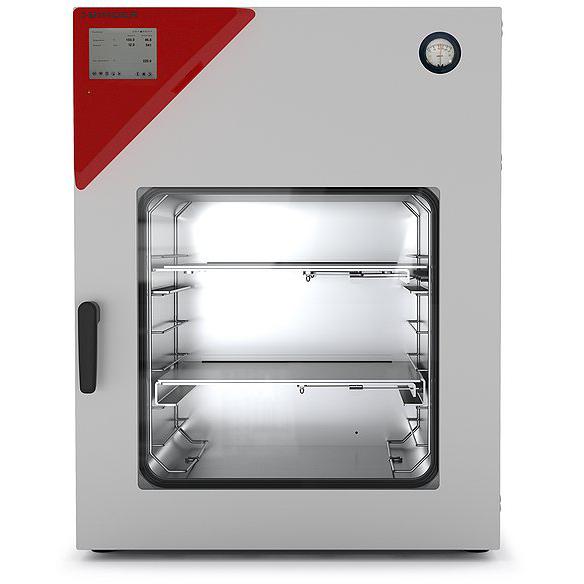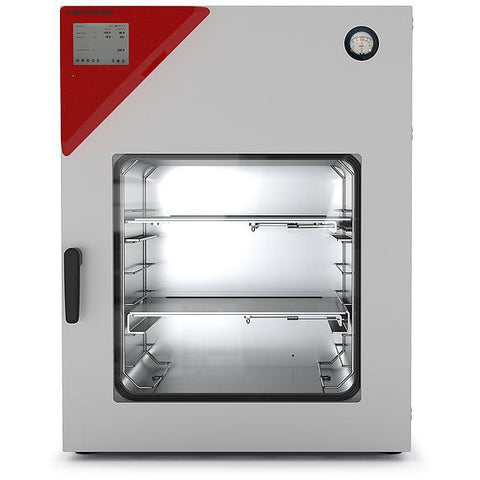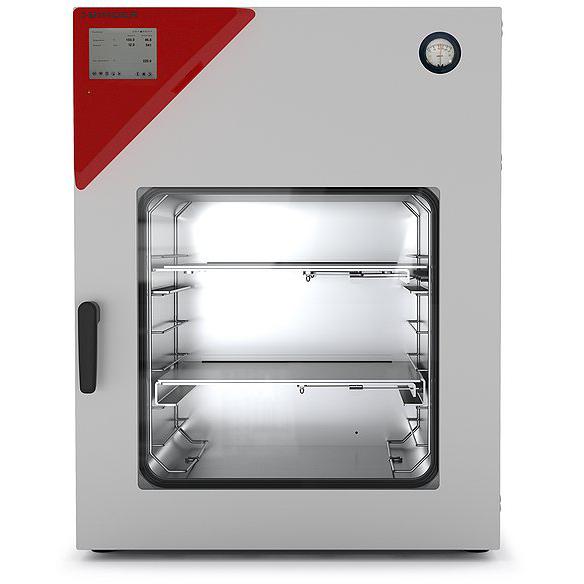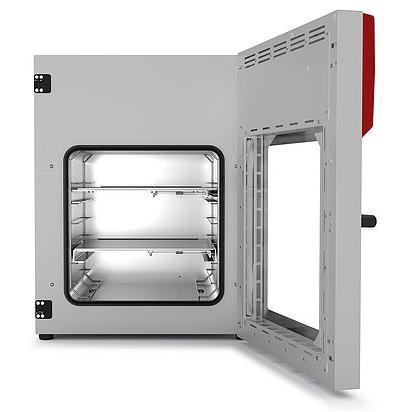 BINDER VDL Vacuum Drying Ovens for flammable solvents, Explosion-Proof
Image
SKU
Description
Capacity
Temperature Range
Electrical
Quantity
Price
Add to Cart

9630-0013

Model VDL 23 Vacuum Drying Oven, Explosion-Proof
0.8 cu ft
ambient +9 °C to 110 °C
100-120V, 50/60 Hz, 10 A
1 Each

$16,578

$15,838

9630-0014

Model VDL 56 Vacuum Drying Oven, Explosion-Proof
1.9 cu ft
ambient +9 °C to 110 °C
100-120 V, 50/60 Hz, 16 A
1 Each

$18,012

$17,305

9630-0015

Model VDL 115 Vacuum Drying Oven, Explosion-Proof
4.2 cu ft
ambient +9 °C to 110 °C
110-120 V, 50/60 Hz, 20 A
1 Each

$23,108

$22,219
Description
BINDER VDL series safety vacuum drying chambers ensure maximum safety when drying organic solvents. Explosion-protected unit with classification according to ATEX directive 2014/34/EU: EX II 2/3/- G IIB T3 Gb/Gc/- X.
Benefits
Fast, gentle drying
Optimum heat transfer through large thermal conducting plates
Safe working thanks to ATEX-compliant safety concept
Also option of modular complete system with vacuum pump and pump chamber
Important characteristics
Temperature range: +9 °C above ambient temperature to +110 °C
ATEX conformity for units: EX II 2/3/- G IIB T3 Gb/Gc/- X
Intuitive touchscreen controller with graphical pressure and temperature display
Program-controlled drying monitoring with automatic ventilation at end of process
Internal data logger, measured values can be read out in open format via USB
Pressure control device for heating activated from < 100 mbar
2 aluminum expansion racks, can be custom-positioned
Universal connection for ventilation with ambient air or inert gas
Universal access port DN 16 - for the introduction of external measuring devices
Shatterproof, spring-mounted safety glass panel
Large viewing window
Computer interface: Ethernet
Vacuum drying chambers for flammable solvents
In its VDL series, BINDER has developed special vacuum drying chambers for flammable solvents. These innovative drying chambers combine effective drying with a sophisticated safety concept. Drying is taken care of quickly and without residues, scaling, or oxidation.
Safety is guaranteed by the vacuum drying chambers for flammable solvents first and foremost by their explosion-proof interior. Adjustment without overshooting also provides maximum protection for samples, while a unique safety concept is in place where operation is concerned. The design and innovative equipment comply with ATEX II 2/3/- G standards.
BINDER vacuum drying chambers for quick drying and quality that lasts
As well as boasting high levels of safety, the drying chambers impress with their quick drying process. Heat is transferred to the sample directly using heat conductor plates, and the patented APT.line™ preheating chamber technology makes sure that sample drying is homogeneous across the entire usable space. Quick, gentle, and free from condensation, drying takes place on aluminum expansion racks that can be flexibly adjusted.
BINDER vacuum drying chambers for flammable solvents cover a temperature range of between 8 °C and 110 °C. Alongside a quick drying process and high levels of process reliability, the chambers are also quick and easy to clean thanks to the smooth inner chamber with rounded corners, the stainless steel interior coating, and the removable racks.
With vacuum drying chambers for flammable solvents from BINDER, performance, quality, and safety go hand in hand, meaning operation is safe and simple for you and optimum results are guaranteed.
Documentation
Specifications
| SKU | 9630-0013 | 9630-0014 | 9630-0015 |
| --- | --- | --- | --- |
| Model | VDL023UL-120V | VDL056UL-120V | VDL115UL-120V |
| Capacity | 0.8 cu ft | 1.9 cu ft | 4.2 cu ft |
| Temperature Range | ambient +9 °C to 110 °C | ambient +9 °C to 110 °C | ambient +9 °C to 110 °C |
| Temperature Stability | ±0.1 K | ±0.1 K | ±0.1 K |
| Temperature Uniformity | ±1 K at 100 °C | ±1.2 K at 100 °C | ±2.9 K at 100 °C |
| Heat-Up Time | 110 mins to 100 °C | 140 mins to 100 °C | 170 mins to 100 °C |
| Maximum Vacuum | 0.01 mbar | 0.01 mbar | 0.01 mbar |
| Gas Connection | 3/8" with flow limiter | 3/8" with flow limiter | 3/8" with flow limiter |
| Access Port | 16 mm DN flange | 16 mm DN flange | 16 mm DN flange |
| Vacuum Connection | 16 mm DN flange | 16 mm DN flange | 16 mm DN flange |
| Doors | 1 | 1 | 1 |
| Interior Dimensions | 11.62" D x 11.23" H x 11.23" W | 13.51" D x 15.76" H x 15.76" W | 18.12" D x 19.94" H x 19.94" W |
| Exterior Dimensions | 16.27" D x 27.5" H x 20.61" W | 18.16" D x 32.11" H x 25.14" W | 22.89" D x 37.11" H x 29.27" W |
| Number of Shelves | 2 standard (4 max.) | 2 standard (5 max.) | 2 standard (6 max.) |
| Maximum Load | 110 lbs (44 lbs per rack) | 132 lbs (44 lbs per rack) | 154 lbs (44 lbs per rack) |
| Electrical | 100-120V, 50/60 Hz, 10 A | 100-120 V, 50/60 Hz, 16 A | 110-120 V, 50/60 Hz, 20 A |
| Weight | 159 lbs | 209 lbs | 348 lbs |