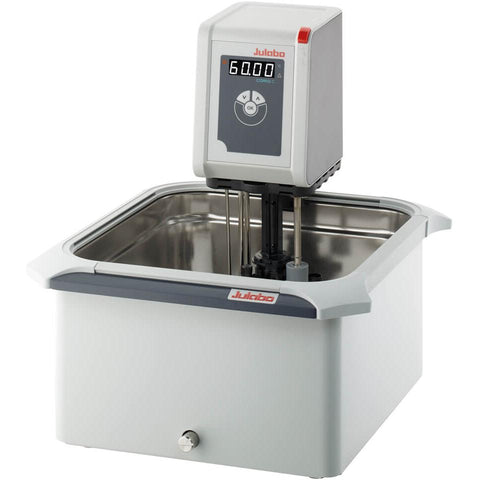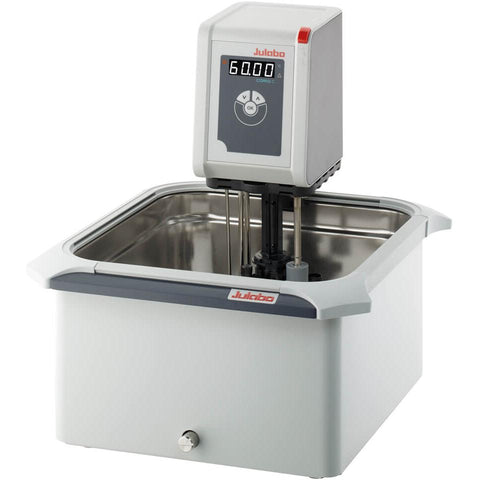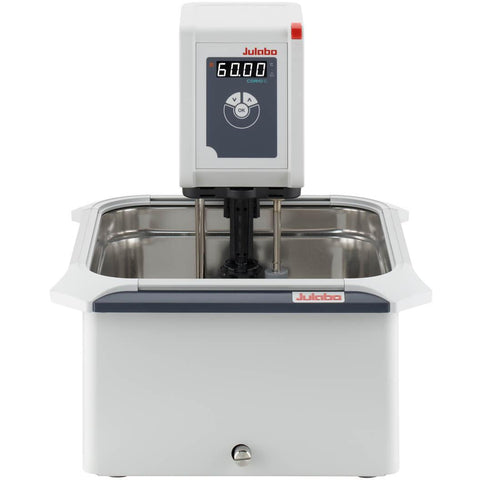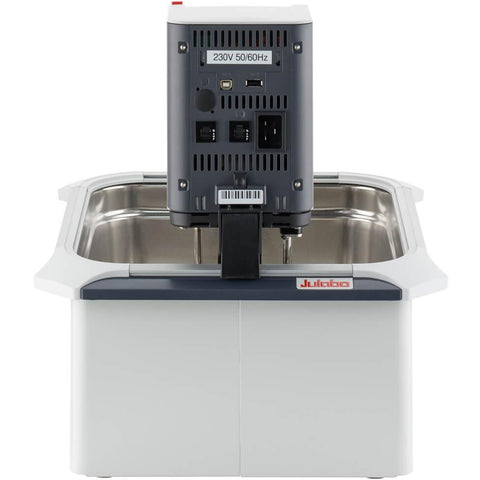 Julabo CORIO™ C-B Open Bath Heating Circulators, 20 to 100°C
Image
SKU
Description
Filling Volume
Temperature Range
Electrical
Quantity
Price
Add to Cart

9011405.22

CORIO C-B5 Heating Circulator
3.5 to 5 L
20 to 100 °C
100V-115V/50-60Hz
1 Each

$1,767

$1,649

9011413.22

CORIO C-B13 Heating Circulator
9 to 13 L
20 to 100 °C
100V-115V/50-60Hz
1 Each

$2,081

$1,942

9011417.22

CORIO C-B17 Heating Circulator
13 to 17 L
20 to 100 °C
100V-115V/50-60Hz
1 Each

$2,223

$2,074

9011419.22

CORIO C-B19 Heating Circulator
14 to 19 L
20 to 100 °C
100V-115V/50-60Hz
1 Each

$2,216

$2,068

9011427.22

CORIO C-B27 Heating Circulator
17 to 27 L
20 to 100 °C
100V-115V/50-60Hz
1 Each

$2,478

$2,312
Description
JULABO CORIO™ Immersion Heating Circulator combinations with transparent or stainless steel bath tanks for routine laboratory tasks. Units include bright LED display and easy operation. A quick connect bath clamp is included.
The CORIO™ C immersion circulator provides temperatures to 100 °C for internal bath applications for use with water only.
Products include a quick connect clamp for positioning the CORIO™ C on tank rim. Polycarbonate bath tanks have volume graduations in L and Qt. Stainless steel bath tanks include a drain port (except B5).
Key Benefits
Models for internal applications
Bright, white, easy to read display
Very quiet
Integrated drain screw (except B5)
Specifications
| Model | C-B5 | C-B13 | C-B17 | C-B19 | C-B27 |
| --- | --- | --- | --- | --- | --- |
| SKU | 9011405.22 | 9011413.22 | 9011417.22 | 9011419.22 | 9011427.22 |
| Working Temp Range | 20 to 100°C | 20 to 100°C | 20 to 100°C | 20 to 100°C | 20 to 100°C |
| Heating Capacity | 1kW | 1kW | 1kW | 1kW | 1kW |
| Voltage Version | 100V-115V/50-60Hz | 100V-115V/50-60Hz | 100V-115V/50-60Hz | 100V-115V/50-60Hz | 100V-115V/50-60Hz |
| Power A | 10A | 10A | 10A | 10A | 10A |
| NRTL | Yes | Yes | Yes | Yes | Yes |
| PCF Pressure | 1.5 psi | 1.5 psi | 1.5 psi | 1.5 psi | 1.5 psi |
| PCF Rate | 6 L/min | 6 L/min | 6 L/min | 6 L/min | 6 L/min |
| Bath Fill Volume | 3.5 to 5L | 9 to 13L | 13 to 17L | 14 to 19L | 17 to 27L |
| External Devices | - | - | - | - | - |
| Fluid Type | Water | Water | Water | Water | Water |
| Heating & Cooling | Heating | Heating | Heating | Heating | Heating |
| Dimensions W x L x H | 9.1 x 15 x 16.2 in. | 15 x 15.8 x 16.6 in. | 15 x 15.8 x 18.6 in. | 15 x 15.8 x 18.6 in. | 15 x 23 x 18.6 in. |
| Weight | 16.1 lbs | 20.1 lbs | 20.5 lbs | 23.2 lbs | 26.5 lbs |
Documentation